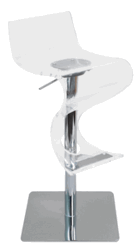 We are excited to announce these two new stools.
San Francisco, CA (PRWEB) June 01, 2012
BarStoolsForLess.com has added two new products to its modern design line. The first addition is 'The Acrylic bar stool'. The Viva acrylic barstool also makes another style now available that was created by popular modern seating designers, LumiSource.
A company spokesperson from the furniture retailed announced the new styles.
"BarStoolsForLess.com is delighted to announce the arrival of two stunning new designs by LumiSource. Both fashioned from hardwearing, utilitarian material, the acrylic bar stool and Viva clear acrylic bar stool offer style and adaptability while retaining an elegant simplicity that still manages to make a powerful design statement."
"With high gloss acrylic and chrome, light reflects effortlessly off of their surfaces, contributing to the sense of space that they enhance and create. The understated, almost spartan design contrasted with bold lines and an unexpected surprise in contour are the hallmarks of LumiSource seating. These signature twists are precisely what our customers have come to know and love about their designs, just as much as all of the staff here at Bar Stools For Less, Inc."
The spokesperson also gave details regarding discounts on the new designs.
"We are also happy to announce that we are offering 12% off on both of these designs for an introductory period. We encourage shoppers to visit the website and decide how many of these beautiful pieces they want to adorn their homes and businesses while stocks last.
When asked if seating of this kind was being bought by customers as gifts for others, the spokesperson explained that this is becoming a more common occurrence.
"As with all LumiSource pieces, they are timelessly elegant and make great gifts for friends and family, as well as a sound choice for furnishing your own spaces."
The company's home page is http://BarStoolsforLess.com.
###