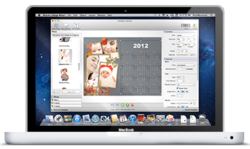 Create a photo collage on Mac easily and quickly with just a few clicks.
(PRWEB) June 04, 2012
PearlMountain Technology has released Picture Collage Maker for Mac v.1.5.5, an enhanced edition of Picture Collage Maker for Mac. It is an easy-to-use app that helps you create eye-catching photo collages on the Mac OS X. This robust program provides 100+ deluxe templates and a suite of powerful editing tools. Using these features, you will be able to create personalized calendars, greeting cards, scrapbooks, posters and photo albums. It gives you fresh ways to share your digital photos on the Mac OS X.
Picture Collage Maker for Mac v.1.5.5 is able to make your personalized calendar using your own photos. You can make any variety of calendar you wish, including one-month, three-month, or twelve-month. You are also free to adjust the visual motif of your calendar, such as the font, colors, background images. The only limit is your imagination.
In addition, new photo cropping mode makes trimming your photos more convenient and there is no messing in this version of the program. Compared with the former cropping way that cropping photo can only be processed in a separate crop dialog, you can only drag your mouse. Now, your photos can be more free of unwanted background clutter.
More editing features like Copy/Paste and Undo/Redo are included in this new version. It makes your work quicker and easier to create duplicates of objects by just copying and pasting the target object. Certainly, with the Undo/Redo features, you can just go back or go forward easily to any step you like to. Picture Collage Version 1.5.5 also introduces automatic alignment, a feature that automatically lines up your photos just right when they are resized or moved.
Picture Collage Maker for Mac comes with 100+ creative templates to assist you in making marvelous photo collages for weddings, birthdays, anniversaries, holidays and any other special moment in life. Just choose a style you like, and then choose from the exhaustive list of clipart, frames, masks and background resources provided to make your collage. It lets both seasoned collage makers and newcomers to the hobby become productive in minutes.
It also offers powerful editing features that you can use to let your imagination run wild, extend your creativity to its limits, to add photos to collage; apply frames and masks to photos; decorate the collage with clipart; add text; set the collage size and background; adjust position, rotation and size of elements; etc. This will make your collages more attractive and unique. The multi-export tool allows you to export the collage as a Jpg, Tiff, Bmp, Png or Gif format. You can also export the collage as a PDF file, set it as wallpaper, print it directly or e-mail it to your friends or families.
Version 1.5.5 provides more powerful features compared to its predecessor, yet it is even easier to use. Sharing the self-made collage with a kind and true wish with people will never outdate, for these recorded memories have painted this perfect day, with colures that never fade. So don't hesitate to make collages and share them with your friends or relatives.
Pricing and Availability
Picture Collage Maker for Mac 1.5.5 supports Mac OS X 10.6 or later and is fully compatible with Mac OS X 10.7 (Lion). A single-user license costs 29.90 USD. Further information of the product and the free trial version can be found at the product page.
Links:
Product page: http://www.picturecollagesoftware.com/mac/
Mac App Store page: http://itunes.apple.com/us/app/picture-collage-maker/id495631432?mt=12
Company
Founded in 2006, PearlMountain Technology Co., Ltd specializes in development of powerful yet easy-to-use software of high quality. The company is focused on delivering customer satisfaction through providing superior service and support to the consumers. Further information about the company and its products is available at http://www.pearlmountainsoft.com/.
Contacts:
David Lin
PearlMountain Technology Co., Ltd
Title: CEO
Email: info(at)pearlmountainsoft(dot)com