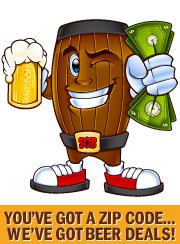 SaveOnBrew wants to be all things beer
Houston, TX (PRWEB) June 05, 2012
SaveOnBrew.Com, the Internet's only beer-price search engine, and BeerReviewsOnline have teamed up to bring review information to all of the deals on the SaveOnBrew web site.
"Our goal is to be all things beer," said Mark Davidson, one of the founders. "We have about eight thousand beers in our database. We thought about reviewing them ourselves, but when we saw what great content BeerReviewsOnline already had, it made sense to team up."
SaveOnBrew, which shows beer sales based on zip code across the United States, shows the review information for the beer when the customer clicks on a deal. "It's a value add that helps with the purchase decision. Maybe you're in the mood for a certain style of beer, but want to check with the pros before making an investment on a twelve pack you can't return and might not drink," said Davidson.
"We're constantly adding new stores and new features to the web site," Davidson explained. SaveOnBrew polls more than 50,000 liquor, convenience, and grocery stores for beer deals and at any given time, has between 250,000 and 300,000 advertised beer deals on-line.
About SaveOnBrew.Com: Founded in 2010 to help thirsty beer drinkers across the United States find the lowest advertised prices for one of the world's most popular beverages.