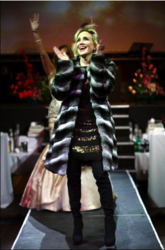 "Tobi is a fabulous and fashionable Rabbi who lives life to the fullest! After all, she is known as the upper east side Sharon Stone." Nole Marin – America's Next Top Model
New York, NY (PRWEB) June 05, 2012
Tobi Rubinstein Schneier: Mother, Rabbi, Fashion Icon and an International Socialite is set to launch her first reality TV show: The House Of Faith N' Fashion and her upcoming tell-all-book. Aimed to embody style, substance and faith, the Faithful and Fashionable Rabbi already has a guest line-up of the fashion industry's movers and shakers including: Nole Marin of America's Next Top Model, Ady Gluck of Necessary Objects, Donna Schneier and award-winning fashion designer - Loris Diran.
The Lady Rabbi is no stranger to fairytales. In addition to the launch of her reality TV show, her upcoming book reveals candid details about her fairytale life, and her life after kissing a frog, as she too did meet her prince more than once (she will tell you). But the one that truly captured her heart was the most difficult of experiences, and the biggest frog of all. Her very Public breakup from him was embarrassing and painful. So to this final Prince we will only refer to him as "Sir No Prince Divine Disaster."
Tobi grew up as the girl from Queens, New York whose creative interpretation of an Orthodox Jewish girl's wardrobe constantly got her kicked out of her "All Girls Religious Paroquial School." It is quite clear that from the very beginning, Tobi was spinning her personal style. After years of perfecting her innovative style, brands like Nicole Miller, Ecko, Victoria Secret, JC Penny, Jennifer Lopez and more; have all benefited from her fashionable prolific ideas. Unprecedented to the fashion industry, she became one of the owners of the first ever Hip Hop Brand of menswear, created exclusively for mass market which debuted at Kmart. The brand entitled Ched-da (appropriately named) was way ahead of its time. As it turns out that is how many have described Tobi Rubinstein Schneier, a visionary and way ahead of her time.
"The House Of Faith N' Fashion is the perfect alchemy of the esthetic and the intrinsic values of our society. Rabbi Tobi preaches as she is the perfect balance of a beauty queen and spiritual leader." Loris Diran - Award winning fashion designer.
As the first female Rabbi Schneier, Tobi understood that even on her most unusual journey, FAITH in God, her real prince, was the golden thread stitching together all of her successes. Tobi is quickly becoming a lifestyle brand. In addition to her reality show and upcoming tell all book, there is a movie deal in the making. Tobi is working in collaboration with Executive Producer Mr. Joseph David Savoy of ABC Livewell Network and NBC Non Stop Network .The Savoy family is known internationally for the world famous Savoy Ballroom "Stomping at the Savoy" and remains one of the most trusted names in banking, hospitality and the entertainment industries for over 80 years.
The House Of Faith N' Fashion debuts during New York Fashion Week on ABC Livewell Network, in September 2012.
"Tobi is a fabulous and fashionable Rabbi who lives life to the fullest! After all, she is known as the upper east side Sharon Stone." Nole Marin – America's Next Top Model
About Tobi Rubinstein Schneier:
Rabbi Tobi Schneier, certified and ordained as of January, 2012. Her charitable contributions and awards include: Tribute Chair - Steven Spielberg's Children at Heart, Habbad's Children of Chernobyl, Board Member - Rabin Medical Center American Friends Division, Host Committee - Norton Museum Bijoux Event, and Share Tzedek Hospital, Woman of the Year Award 2009.
THE HOUSE OF FAITH N' FASHION began as a national series of inspiring conversations about the balance between the material and spiritual worlds. The series asks questions such as "Is faith a fashion?" During these conversations Tobi has intellectually entertained and interviewed talents like Badgley Mischka, Douglas Hannant, Loris Duran and Dex of Dex New York. To learn more, please visit The House Of Faith N' Fashion.
Tobi is now available for press and media interviews. Investors and all other inquiries are also welcome. Please contact: Amore at Apples & Oranges Public Relations at 888-371-4718 or info(at)applesandorangespr(dot)com