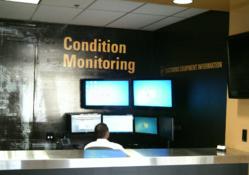 San Diego, CA (PRWEB) June 01, 2012
To maximize the benefits of Caterpillar's product enhancements and industry leading technology, Hawthorne CAT's Product Support Technology Group now offers a state-of –the art center which provides customers a wide array of technological solutions to help maximize productivity, including a complete condition monitoring program.
The Product Support Solutions Center (PSSC) is a showcase where Hawthorne can demonstrate to their customers the superiority and life cycle value of Caterpillar products through the latest in product support technology. According to Greg Vena, Corporate Product Support Sales Manager, "In addition to assisting with equipment utilization and fuel consumption management, customers enrolled in our condition monitoring program are alerted to system "events" before they can escalate into potentially severe problems."
Staffed by Systems Specialists, the PSSC is equipped with six screens (four 23" and two 32" monitors) for monitoring events, utilization and productivity. Furthermore, it offers the full spectrum of equipment technology including: diagnostics, fluid sample results (S.O.S), online part ordering (PartStore), equipment troubleshooting (SISWeb) and scheduling preventive maintenance (VisionLink). The System Specialists can even provide Caterpillar Electronic Technician, which is a service tool designed to run on a personal computer (PC) under Microsoft® Windows™.
The Product Support Technology Group currently monitors over 400 machines from a single location providing customers in San Diego and Hawaii with timely information to increase productivity, minimize downtime and avoid costly repairs.
The PSSC is located at Hawthorne's corporate office at 16945 Camino San Bernardo, San Diego, CA 92127. For more information, please contact Zephyr Skeets at (858) 674-7097.
Background
Hawthorne CAT is the authorized dealer for Caterpillar construction and power equipment in San Diego, Hawaii, Guam, Saipan and American Samoa. Hawthorne sells, rents, provides parts and service to various industries including heavy construction, general building construction, earthmoving, excavation, quarry and aggregate, landscaping, marine, paving, waste management, engine power, power generation and grounds maintenance.
For more on Hawthorne visit http://www.hawthornecat.com.