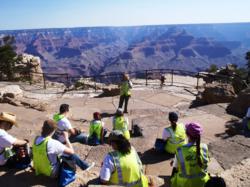 Given the scale of the Grand Canyon our team is proof that even small teams, when determined, can make a difference.
Anaheim, CA (PRWEB) June 01, 2012
For the third consecutive year, The Travel Corporation ('TravCorp") sent a group of employees, including five Contiki staff members, on a trip to the Grand Canyon to volunteer in a hands-on plant restoration project. The Travel Corporation Conservation Foundation (http://www.ttcconservationfoundation.com) partnered with Tourism Cares (http://www.tourismcares.org), a non-profit organization founded by the tourism industry to preserve many of the world's natural sites for future generations of travelers.
As part of the project, 19 employees from TravCorp USA's offices flew out to the Grand Canyon and worked along the Mather Point Visitor center. The Tourism Cares and the National Parks Services crew - headed by team leader Michael Wolcott - provided information, guidance, and support on restoring the natural vegetation to the area, located at the South Rim of the Grand Canyon National Park. This year's group spent one full day planting over 200 native species in the area while removing invasive plants. The Grand Canyon Lodges supported the initiative and the volunteers by providing accommodation and meals.
"Our National Parks are America's treasures that need and deserve the travel and tourism industry's support," said Bruce Beckham, Executive Director and CEO of Tourism Cares. "Tourism Cares is proud and pleased to team up with TravCorp companies and the National Park Service at the Grand Canyon for the third year in a row. Together, we're making a difference and that's what it's all about."
"TravCorp USA and The Travel Corporation Conservation Foundation are equally proud of this partnership. Both Tourism Cares and The Grand Canyon National Park Service have been very supportive of us making a contribution to the preservation of one of the Natural Wonders of the World," said Richard Launder, President of TravCorp USA. "Given the scale of the Grand Canyon our team is proof that even small teams, when determined, can make a difference. My special thanks to all of the staff who volunteer to participate in this noble cause. They all use their company sponsored "volunteer days" for this effort and we are proud of each member of the team."
The TTC Foundation's other projects include indigenous sustainable tourism, sustainable coastlines, and ocean conservation. For more information about The Travel Corporation and the TTC Foundation's conservation initiatives, visit http://www.thetravelcorporation.com.
About Contiki
Contiki has inspired 18 – 35 year olds to travel to the world's most fantastic destinations for 50 years. The trips are hassle-free and include the perfect mix of sightseeing, culture and free time. Travelers can choose from over 190 itineraries throughout Europe, Russia, Egypt, Asia, Australia, New Zealand, Mexico, Canada, South America, & the USA. For more information, please visit http://www.Contiki.com
About the Travel Corporation
The Travel Corporation is a highly successful, family-run international travel group with over 25 award-winning brands which include luxury hotels and boutique river cruise ships, niche tour operators, and other leisure interests. The Travel Corporation award-winning brands include Trafalgar, Contiki, Brendan Vacations, Insight Vacations, Lion World Tours, African Travel, Red Carnation Hotel Collection, and Uniworld Boutique River Cruise Collection. The Travel Corporation's guiding principle is one of providing the most enjoyable, enriching travel experience for its customers across the globe. For more information, please visit http://www.TheTravelCorporation.com.
About Tourism Cares
Tourism Cares is a 501c(3) non-profit public charity that benefits society by preserving the travel experience for future generations by awarding grants to natural, cultural and historic sites worldwide; by presenting academic and service-learning scholarships to students of hospitality and tourism; and by organizing volunteer efforts to restore tourism-related sites in need of care and rejuvenation. For additional information about Tourism Cares, visit http://www.tourismcares.org.