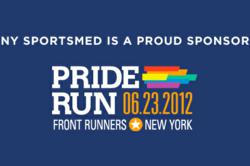 New York, NY (PRWEB) June 02, 2012
NY SportsMed & Physical Therapy is lacing up its shoes in support of the Front Runners New York Lesbian and Gay Pride Run. The 5 mile race will take place on June 23, 2012 in Manhattan and will feature races for both men and women. The festive race boasts some 5,000 participants annually and is marked by prize money, raffles and souvenirs. "We are thrilled to be sponsors of this race and it really is a natural fit for NY SportsMed," said Adam Banks, CEO for NYSM.
The NY SportsMed Running Club as well as staff members will be running in this year's race. The NY SportsMed Running Club is comprised of patients who train alongside expert physical therapists and exercise specialists, assisting them in both injury recovery and resuming a running regimen. The professional guidance of the NYSM trained physical therapists helps members prevent re-injury while training and improving their running form. The NY SportsMed Running club holds its physical therapist supervised runs at 6:30pm every Tuesday. Runners meet at the NY SportsMed Columbus Circle location at 1841 Broadway and then run in Central Park. Those interested in joining the NY SportsMed Running Club or participating in the workshops can contact NYSM at 212.245.5500.
ABOUT THE FRONT RUNNERS NEW YORK
Front Runners is a competitive and social running club with members from across the tri-state area. Members, range from ages 18 to 84 and consist of social walkers and joggers to local elite runners. FRNY is a supportive community for athletes of all levels of ability and interest. To register for the race, go to http://nyrr.org/run-with-us/front-runners-new-york-lesbian-and-gay-pride-run-5m
ABOUT NEW YORK SPORTSMED
New York Sports Medicine and Physical Therapy provides a personalized, comprehensive approach to physical and sports medicine and rehabilitation. Through the practice of physiatry, a medical specialty that focuses on the recovery from musculoskeletal injuries, function is restored, healing is promoted, and pain is alleviated. Its approach to sports medicine is to provide a comprehensive set of options to maintain athleticism, heal the body from injury, and keep it as pain free as possible. To learn more about NY SportsMed visit http://www.nysportsmed.com, on facebook at http://www.facebook/nysportsmed or twitter @NYSportsMed.