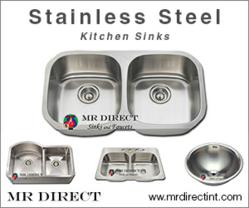 Stainless steel sinks from MR Direct conveniently come in many styles for different areas of the home
Toledo, OH (PRWEB) June 01, 2012
MR Direct Int. has an extensive line of stainless steel sinks in their catalog. For kitchens and bar areas, they offer many styles to suit both large and small spaces. A larger sink works best for kitchens with a lot of counter space, and a small sink is ideal for condensed kitchens and kitchenettes. They also offer stainless steel lavatory sinks that can add a contemporary touch to any bathroom. And, since the demand for stainless steel sinks never seems to diminish, MR Direct will continue to expand their line in the future.
Only the best materials are used to construct MR Direct's stainless steel kitchen and bathroom sinks. Quality 304 grade stainless steel is used for their products, which is the most versatile and widely used type of stainless steel. It is strengthened by cold-rolling, which determines the durability of the finished product and offers good dimensional accuracy and surface finish. All of the stainless steel sinks produced by MR Direct contain 18% chromium and 8-10% nickel, which is what make the sinks "stainless." The chemical composition, weld-ability and corrosion resistance provide the best all-around performance for each sink at exceptionally low prices.
When manufacturing their products, MR Direct lays a 304 grade stainless steel sheet over a mold, which is then pressed and cut to form the shape of the sink. This one-piece construction reinforces the sink and guarantees a durable product that will last a long time. Another method that MR Direct uses to construct their sinks is to weld four evenly cut pieces of stainless steel together to create a sink that is uniform on all sides. These are called 90 degree kitchen sinks and they are perfect for frequently used kitchens and utility areas. No matter the construction style, MR Direct stands behind each sink with a limited lifetime warranty.
For those who like a quiet kitchen, MR Direct's stainless steel sinks come with sound-dampening pads to reduce water noise. Each sink is sprayed with a coat of barrier formula for extra protection against condensation, mold and allergens due to dripping water. This method of protecting the sink is very important to prevent damage to the sink and the surrounding cabinet-not to mention your family's health.
Stainless steel sinks from MR Direct conveniently come in many styles for different areas of the home. If you are searching for a classic double bowl kitchen sink, the 502 Double Bowl Stainless Steel Sink is available in a thick 16 gauge or a thinner, yet still high quality, 18 gauge. The appearance and durability of the sink should be enough to sell it, but the low price of $79 to $89 (depending on gauge) should stop any shopper in their tracks.
Many other styles are available in MR Direct's stainless steel collection including beautiful apron sinks and a wide selection of top mounts. The entire collection will only continue to grow and offer superior functionality that will give any home a sleek, up-to-date look.
For more information about their products, visit the MR Direct website: http://www.mrdirectint.com
MR Direct
7610 New West Road
Toledo, OH 43617
877.946.5725