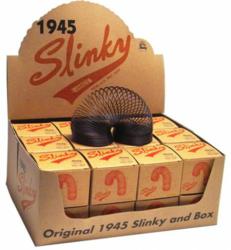 Elma, New York (PRWEB) June 02, 2012
One of the bestselling US made toys at the Made In America Store comes from Poof-Slinky. Poof-Slinky brings the Slinky, which has been a household name since the 1940's, and is 100% American made. The Made In America Store is proud to sell such an American icon in toys from Poof-Slinky.
The Made In America Store stocks their toy department with a wide range of Poof-Slinky products ranging from two different kinds of Slinkys, Poof Soccer Balls, Poof Footballs and Spinwheels.
Consumers can choose from the Original Slinky or a vintage looking, 1945 Collector's Slinky. The Collector's Slinky is packaging in a vintage box that is supposed to resemble the packaging used when the Slinkys were presented in the 1940's. Also, the vintage Slinky is also the darker steel color, as opposed to the shiny, stainless steel color it is today.
Poof-Slinky also has a display of footballs and soccer balls in a range of sizes, styles, and colors. Poof is widely known as being a soft, foam-like material that holds its shape, making it the perfect safe-sport ball! Poof footballs range in size from mini to normal and even come in a 'Spiral' shape. The soccer balls from Poof-Slinky range from mini to normal size.
Lastly, Poof-Slinky manufactures US made Spinwheels. The Spinwheels from Poof-Slinky come in three different styles; Solid Colors, Animal Print or Star & Stripes. These Spinwheels have used for decorating lawn and gardens, toys for children and has been said to help keep certain critters from crops.
Consumers looking to shop for American made toys from Poof-Slinky can visit http://www.MadeInAmericaStore.com or call 716-652-4872 and talk to a Made In America Store Representative.
One of the most famous toys in history, Slinky, originated in a meter for testing horsepower on battleships. As World War II raged on in 1943, marine engineer Richard James worked at his desk in Philadelphia's Cramp Shipyard. A harmless mishap forever changed the life of James and his wife Betty and sowed the seed that produced the iconic Slinky.
A torsion spring used in a testing meter fell off James' desk and tumbled end over end across the floor. James took it home to Betty that evening and said, "I think I can make a toy out of this." The Slinky was made by coming up with a precise structure with the metal.
Betty thumbed through the dictionary for a fitting name for the toy and found it in Slinky, which was defined as "stealthy, sleek and sinuous". In 1945, Richard and Betty used a $500 loan to pay a company for manufacturing a small quantity of Slinks and an attempt was made to sell it through retail outlets in Philadelphia.
Consumers can purchase a 1945 Collector's Slinky by visiting http://www.MadeInAmericaStore.com or call 716-652-4872 and talk to a Made In America Store representative.
However, with no name recognition, the spring didn't sell. As Christmas neared, Gimbels Department Store agreed to provide counter space for 400 Slinkys and Richard James went down ahead of Betty to demonstrate the toy. When Betty arrived at Gimbels, she spotted a mob of people with dollars in their hands, and they were gathered around the Slinky® display. Within 90 minutes all 400 Slinkys were sold, and the rest is toy history.
A factory was established in Philadelphia and Richard quit his job at the shipyard to devote full time to the Slinky, which was the hit of the 1946 American Toy Fair in New York City. During the 1950's business boomed, but Richard James' life took a course that led to his going to South America in 1960.
Left with the responsibility of six children and now a floundering business, Betty James began a rebirth of the Slinky dream by relocating the factory to her hometown of Hollidaysburg, a small town adjacent to Altoona. By 1960, Betty had a unique co-op advertising plan in full swing, aided by the production of a "jingle" that is still the sound behind Slinky television commercials.
Slinky sales continued to increase through the years and a number of new items were added to the James Industries line of toys. In 1990, a national survey by a publication revealed that 89.8 percent of the people in America knew what a Slinky was or were familiar with the jingle.
Purchased in 1998 by Poof Products, a leading American toy company, Slinky is firmly entrenched as one of the leading staples of the toy industry and is one of America's most recognized brand names.
Other milestones include; The Discovery and History Channels selected Slinky as one of the top 10 toys of the 20th Century, the U.S. Postal Service honored Slinky on a 1999 commemorative stamp, Slinky participated on a NASA space mission, over 300 million Slinkys have been sold.
The Made In America Store is located at 900 Maple Road in Elma, New York and is committed to selling 100% American manufactured products. You can visit http://www.MadeInAmericaStore.com for more information or shop our catalog of over 3,500 products from over 290 vendors that are devoted to producing USA made products. All US military personnel, both active duty and veterans, receive a discount every day. Consumers can also keep up to date news articles, events, photos and contests with Facebook, Twitter, Google+, Pinterest and Tumblr!