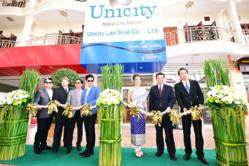 We know we can improve the lives of the Lao people through Unicity's products and opportunity.

-Christopher Kim
President of Unicity Asia Pacific
Salt Lake City, Utah / Vientaine, Laos (PRWEB) June 05, 2012
Unicity, a global leader in healthcare products, recently opened the new market of Laos with a standing-room-only event held in Vientiane, Laos. Hundreds of Lao people, as well as top Unicity Franchise Partners, were excited to witness the ribbon cutting as Unicity continued its mission to Make Life Better.
Local government regulations typically don't allow for more than three to five people to assemble, making this event a unique experience. Special care was given to follow Lao regulations, but it was clear there were many Lao people who wanted to show their strong commitment to Make Life Better with Unicity.
Also present at the event was Christopher Kim, President of Unicity Asia-Pacific, as well as Rasa Comeban, Unicity's top-selling franchise owner. The two leaders led the cutting of the ribbon ceremony.
Following the ribbon cutting, the first Unicity Seminar for Laos was held with an amazing crowd of over 1,200 people. Those attending had difficulty holding back their typical loud cheers of excitement, as Lao regulations prevented them from making too much noise.
"It is very exciting to open the Laos market. We know we can improve the lives of the Lao people through Unicity's products and opportunity." Said Christopher Kim following the event. "Opening the Laos market is the first step for us to reach Indo-China markets such as Vietnam, Cambodia, and even some parts of China."
The grand opening of Laos follows several years of record-breaking sales for Unicity in Thailand. Products like Bios Life SX (similar to Bios Life Slim) have become favorites for people who struggle with weight and blood sugar problems.
Unicity's move to Laos will continue their mission to Make Life Better by bringing the Lao people products which help with a variety of health problems such as glucose management and weight loss.
To learn more about Unicity's global mission to Make Life Better, visit http://www.unicity.net.
About Unicity International
Unicity is a worldwide leader in nutritional and personal care products. The company's mission to Make Life Better helps people look better, feel better, and live better. Recent products like Bios Life Matcha and Bios Life Slim G help people by providing natural energy and help manage their blood sugar and glucose levels. To learn more about Unicity and its products, visit Unicity.net.