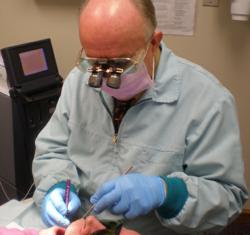 HURON, OH (PRWEB) June 04, 2012
Recent studies show that an estimated 43 percent of Americans 65 and up will lose six or more of their teeth in their lifetime. Such statistics highlight the importance of good, daily oral care. However, despite the efforts made, many Americans will develop moderate to severe periodontal disease at some point in their life. Periodontal disease, or gum disease, has been linked to an increased risk for heart disease, stroke, obesity and low birth-weight or premature babies. Despite the health risks, many people refuse to seek treatment for their periodontal disease because of the fear, anxiety and pain associated with traditional gum surgery. In an effort to find an alternative treatment option for periodontal disease, Dr. Donald Novotny received specialized training to use the LANAP Laser Treatment for gum disease, a laser alternative to traditional treatments that does not require cutting or sutures.
Traditional treatments for gum disease are often feared because they involve invasive procedures using scalpels and sutures. In order to remove the disease from the mouth, the dentist is required to cut the gums and clean the area around the root of the tooth. The diseased gum tissue is then trimmed away, leaving only healthy tissue. The gums are then sutured back in place. Pain after the procedure has been reported to be moderate to severe, with many patients taking days off of work in order to recover. And, because the gums are trimmed, many patients report a lower gum line post-surgery, which leads to aesthetic issues as well as an increased sensitivity to hot or cold.
"Gum disease should never be ignored no matter how fearful you are of the treatment," said Dr. Novotny. "Gum disease has been linked with serious systematic effects such as heart disease, stroke, tooth loss, and low birth-weight or premature babies. The LANAP Laser Treatment has allowed me to treat my patients' gum disease without the fear or pain of traditional surgery."
The LANAP Laser Treatment for gum disease allows Dr. Novotny to treat his patients' gum disease without cutting or sutures. This laser alternative to dental gum surgery does not use a blade, instead it zaps away the bacteria that cause periodontal disease using wavelengths of light that can tell the difference between diseased and healthy tissue. The procedure causes very little gum recession and very little discomfort for the patient. With the LANAP Laser, Dr. Novotny is able to treat periodontal disease before it leads to tooth and bone loss but without the pain associated with traditional surgery. This minimally invasive procedure is the first FDA cleared laser treatment for gum disease and has been shown to provide measurable, predictable results.
Light Touch Dentistry is a general practice offering patients personalized dental care and implant dentistry for Huron, Ohio. Dr. Donald Novotny received his Bachelor of Science degree in Physics from John Carroll University; his Dental Degree from Case Western Reserve and is a member of the American Dental Association. Dr. Novotny is part of one percent of dental professionals providing the most recent FDA cleared laser procedure for gum disease and periodontal treatment. To learn more about Light Touch Dentistry and their dental services visit their website at lighttouchdentistry.com or call (567) 623-7611.