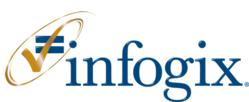 Naperville, Ill. (PRWEB) June 01, 2012
Infogix, Inc. ("Infogix"), a leading developer of data integrity software that helps businesses manage and improve their operations, today announced that H.I.G. Capital ("H.I.G."), a leading global private equity investment firm with more than $9.0 billion of equity capital under management, has recapitalized the business.
Since 1982, Infogix has offered its customers a proprietary suite of unique, automated, end-to-end software solutions to control and monitor, analyze, and improve their data accuracy. Customers use Infogix solutions to establish controls that monitor business information moving among disparate systems as well as detect and prevent errors. Infogix software has proven amongst its blue-chip customer base to significantly enhance operating efficiencies and profitability by preventing information errors, mitigating potential risks and increase the cost-effectiveness of audit, compliance, and governance requirements. Highly flexible, Infogix software can be deployed enterprise-wide and is compatible across all applications, platforms, and business processes and provides operations managers critical real-time information necessary to proactively manage their business.
"Our partnership with H.I.G. provides us with the resources and strategic vision that will enable us to further develop our industry-leading platform of data integrity solutions," said Sumit Nijhawan, Chief Executive Officer of Infogix. "While we expect that customers will experience a seamless transition in this new partnership, in the long-term, they will also enjoy enhanced product and service offerings."
2012 marks the 30th anniversary for Infogix, originally founded by Madhavan K. Nayar, who will remain on the company's Board of Directors. Sumit Nijhawan and the current management team will continue to lead the Company.
Keval Patel, Principal of H.I.G., added, "We are very pleased to be partnering with the Infogix team. Infogix has developed a unique technology that creates a highly compelling customer value proposition, as evidenced by its impressive roster of longstanding blue-chip corporate clients. We look forward to helping Infogix to continue to grow and enhance its product offering and value proposition."
About Infogix, Inc.
Many of the world's largest enterprises depend on Infogix to transform their operations. Through the use of Infogix solutions, customers are able to control, analyze, and improve their operations by realizing the full value of the Infogix Business Operations Management solution. Since 1982, Infogix has been providing Infogix Controls Solutions to Global 2000 enterprises. Millions of Infogix Controls continuously monitor and assure the integrity of information in hundreds of enterprises each day. For more information, call +1.630.649.6800 (U.S, Canada, and International), or visit http://www.infogix.com today.
About H.I.G. Capital
H.I.G. is a leading global private equity investment firm with more than $9.0 billion of equity capital under management. Based in Miami, and with offices in Atlanta, Boston, Chicago, Dallas, New York, and San Francisco in the U.S., as well as international affiliate offices in London, Hamburg, Madrid, Paris, and Rio de Janeiro, H.I.G. specializes in providing capital to small and medium-sized companies with attractive growth potential. H.I.G. invests in management-led buyouts and recapitalizations of profitable and well managed manufacturing or service businesses. H.I.G. also has extensive experience with financial restructurings and operational turnarounds. Since its founding in 1993, H.I.G. invested in and managed more than 200 companies worldwide. The firm's current portfolio includes more than 50 companies. For more information, please refer to the H.I.G. website at http://www.higcapital.com.