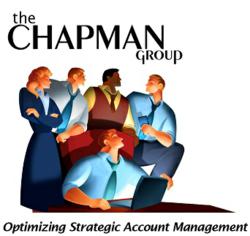 Columbia, MD (PRWEB) June 04, 2012
The Chapman Group, a strategic account management consulting firm based in Columbia, MD would like to congratulate and welcome the newest addition to our team, Kandy Phillips. Phillips is the new director of marketing for The Chapman Group's Strategic Account Management consulting and sales training and its subsidiaries; LoyaltyPro's customer experience surveying and Visualize ROI calculator solutions.
Kandy Phillips is an interactive marketing strategist who has built her career helping companies translate business objectives into compelling, actionable, and effective communications strategies. Phillips has over 16 years' experience increasing brand value and advancing positive relationships between an organization and its target audiences through business marketing and creative advertising. Throughout her career, Phillips has gained a wide range of marketing experience from various industries including aerospace and defense, software development, video production, insurance and real estate investment trust management. Her creative problem-solving techniques transcend conventional approaches to reaching mass targeted audiences.
Phillips' value of her work in marketing communications mirrors The Chapman Group values; she describes her approach to business marketing and strategy development as a scientific, practical and customer-centered process. "Marketing is building actionable objectives on a foundation of research and translating those values into favorable outcomes in mutually-beneficial relationships between an organization and its customers- it's not an experiment with the company's advertising budget."
In her brief career with the Chapman Group thus far, Kandy has already achieved great successes launching an interactive marketing strategy across multiple platforms and Invigorating our presence in digital media; on the Strategic Account Management Blog, and the establishment of the Metrics Channel on YouTube.
When asked about Kandy, President and CEO Dennis Chapman Sr. said, "Kandy is already a very welcome and invaluable asset to our team. I cannot wait to revel in the future successes that she is bound create for the Chapman Group – I can see the difference Kandy is making now."
About Kandy Phillips |
Connect On LinkedIn
Connect On Twitter
About The Chapman Group | ChapmanHQ.com
The Chapman Group is a leading Strategic Account Management (SAM) and sales effectiveness consulting firm. For over 20 years The Chapman Group has been assisting the world's most successful and respected organizations improve strategic account management and sales practices, resulting in billions of dollars of delivered economic ROI (Return on Investment).