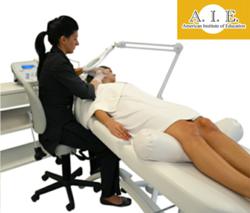 the school has Spanish speaking instructors and teaching assistants to help students with both theory and practical training
Santa Clara, CA (PRWEB) June 06, 2012
In the past, the only option for Spanish speaking electrology students was to work through an English language curriculum. School study materials and tests were only available in English and practical instruction was delivered by English speaking instructors. Today, The American Institute of Education is offering its study materials as well as its online and in-school tests in Spanish and the school has Spanish speaking instructors and teaching assistants to help students with both theory and practical training. The possibility of success for Spanish speaking electrology students entering the permanent hair removal profession has increased dramatically with the roll out of this program at American Institute of Education.
Over the 25 year history of American Institute of Education, the school has offered training programs that meet the licensing requirements of the majority of states in our nation with the addition of 2 modified and slightly shorter electrology programs for residents of states with no licensing requirements. These programs are also available in Spanish. Details on these training options can be found on the school's site at http://www.aielectrology.com/para-publication-inmediata.html. Click on the Electrology Program icon at the top of the home page and an interactive map will appear that can be used to find the training requirements and corresponding programs allowed for each state.
For those wishing to speak with a school representative in Spanish, all interested parties should call the school's toll free line 888-844-4247 and ask for Jazmin Toscano. She is easiest to reach on Tuesdays, Wednesdays and Thursdays during business hours. You can also email her @ jtoscano(at)aielectrology(dot)com
Huge Business Opportunity
If your first language is Spanish and you've always been interested in a career in the highly profitable permanent hair removal profession but were worried about successfully completing your electrology training, this could be the right time to enter this profession. Call 888-844-4247 today to find out more about getting trained in this lucrative career, where most electrologists average around $75.00 per hour for their services.
Open Enrollment
All electrology programs at American Institute of Education are offered on an open-enrollment basis. This means that students can start any day and progress through their training at a pace that best suits them. Theory is completed online from home and all in-school practical training is delivered according to personalized schedules that meet each student's goals. A 600 hour program can be completed in as little as 4 months but students have the flexibility to take up to 18 months if needed. The two alternative electrology programs for unlicensed states can be done in less time. Please call Jazmin Toscano for details.
Special Introductory Tuition Pricing
American Institute of Education is offering an introductory price for the first 15 Spanish speaking students of just $5,800 for their 600 hour California curriculum.
All programs include textbooks, all tests and exams, online access to the school's Online Academy as well as a kit and all disposable supplies used in the school's student clinic.