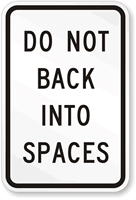 "With the pervasiveness of illegal parking, enforcing regulation is necessary," said Daniel Male, manager at MyParkingSign.com.
Brooklyn, New York (PRWEB) June 04, 2012
MyParkingSign.com, the largest online retailer of parking signage, is distributing a new line of parking lot rules signs that regulate illicit parking activity. These signs hope to maintain safety on the road and in the lot, keeping motorists informed of both general and specific parking regulations.
Reckless and illegal parking is wildly prevalent throughout the United States, ranging from double parking in urban spaces, hovering over lines in larger parking lots, and parking in front of residential driveways in suburban areas. Inconsiderate parking is not merely an American issue, however. CBS News' website reports that the city of Vilnius, Lithuana recently experienced a rise in (typically flashy and expensive) vehicles carelessly parked illegally on major thruways. The mayor crushed an illegally parked car with an army tank to make an example of a careless Mercedes-Benz driver. This new series of signage presents the same warning in a more comprehensive manner.
The new line of parking lot rules signs from MyParkingSign.com helps keep motorists informed using durable materials and sharp formatting. The signs are categorized into three general sections: Courtesy Signs, Front End In Signs, and Parallel Parking Signs. The signs inform drivers where and how to park/to not park, simultaneously maintaining parking safety and general civility. The signs use reflective aluminum for day/night visibility, with a sturdy 3M coating to guarantee resilience and long-lasting durability. All signage from MyParkingSign.com is municipal grade and is designed to maintain maximum affordability.
"With the pervasiveness of illegal parking, enforcing regulation is necessary," said Daniel Male, manager at MyParkingSign.com. "This new line of signs lets drivers know not only where they should and should not park, but also reminds them to retain courtesy when parking."
For more information on this new line of signage and other parking signs, visit http://www.myparkingsign.com/mps/parking-rules-signs.aspx.
About MyParkingSign
MyParkingSign is the largest online distributor of parking and traffic signs. Find over 3,000 different parking signs in stock as well as labels and accessories. Customers can create their own signs using convenient customization wizards.
About SmartSign
SmartSign is one of America's fastest growing e-commerce companies and parent of MyParkingSign.com, MySafetySign.com, as well as more than 50 other sites. The company manufactures and distributes a wide range of signs, tags, mats, and labels. In the past, many consumers have found it hard to find, hard to design and hard to order signs with the right message. By positioning "signs as solutions," SmartSign has taken an entirely different approach. Through highly targeted, content-rich, and authoritative retail sites, the company provides specific solutions to specific problems, such as customizing an asset tag. SmartSign is widely recognized for its quality construction; its signs come with a 3M® warranty and outlast fast-fading, ink-jet signs. Other SmartSign advantages include fast and free shipping, the Web's largest range of designs, and a best-price guarantee.