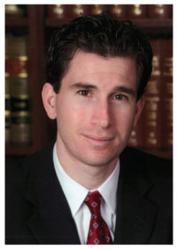 What really sets attorney Brad Balaban apart is his willingness to give 110% to his clients and his community.
North Carolina (PRWEB) June 05, 2012
Personal injury attorney Brad Balaban of Marcari, Russotto, Spencer & Balaban, PC, joins the ranks of North Carolina attorneys recognized by the National Trial Lawyers at a young age, says firm founder Donald W. Marcari. Membership in Top 40 under 40 is extended to lawyers who exhibit superior qualifications, results, and leadership, according to TheNationalTrialLawyers.org. Lawyers are nominated by peers and withstand a multi-phase selection process.
"Brad works hard for his clients and provides them with excellent representation," Marcari said. "I guess there are more than a few lawyers who do. But what really sets Brad apart is his willingness to give 110% to his clients and his community. He volunteers for a number of worthy causes and has always been guided by a highly developed sense of what is right. His dedication is truly unique for a lawyer so young."
Balaban, 35, is a personal injury attorney admitted to practice in North Carolina, Washington, D.C. and Virginia. He focuses his practice on victims of car, truck and motorcycle accidents along with slip-and-fall, dangerous products and other serious injury cases. He earned his BA in 1999 with a double major in Political Science and History from the University of North Carolina at Chapel Hill. He earned his law degree from Pennsylvania State University, The Dickinson School of Law in 2002.
The newly formed National Trial Lawyers Association: Top 40 under 40 is a professional organization for top young trial attorneys spanning all 50 states. Membership is by invitation only with criteria including superior trial results and leadership qualities. Member names are submitted by peers followed by in-depth third-party research.
About Marcari, Russotto, Spencer & Balaban, PC
The lawyers at Marcari, Russotto, Spencer & Balaban, PC serve Virginia and North Carolina personal injury clients from 13 locations. The firm's attorneys offer clients more than 150 years of combined legal experience in areas such as auto accidents, wrongful death, truck accidents, workers compensation, medical malpractice, slip-and-fall accidents and other injury cases.
Aside from its record of success, one of the firm's claims to fame is partner Don Marcari's history as the U.S. Navy Judge Advocate General defense attorney featured in the movie, "A Few Good Men." After his stint in the Navy, Don Marcari has continued to fight passionately for his clients and has been recognized for his efforts by numerous prestigious professional organizations.
For more information, call 888-351-1038 or visit the firm's website at HandleTheTruth.com.