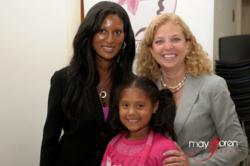 Tigerlily Foundation educates, advocates for, empowers and supports young women - before, during and after breast cancer.
Reston, Virginia (PRWEB) June 05, 2012
The Tigerlily Foundation will honor the recipients for the 2012 Transformation, Inspire and KM Warrior Awards, including Beverly Vote, Founder, Breast Cancer Wellness Magazine, Lillie Shockney, Administrative Director of the John's Hopkins Avon Foundation Breast Center, and Carla Shamblen, a young breast cancer survivor, living with Stage 4 breast cancer. Previous awardees have included Representative Debbie Wasserman Schultz, Representative Donna Christen and Jennifer Griffin, Fox 5 News Correspondent.
The EmPOWER Ball will be hosted by Andrea Roane, News Anchor, W*USA9, and presenters included Surae Chinn, Reporter, W*USA 9 and Tony Perkins, Fox 5 Morning News. Sponsors include the Hilton McLean Tyson's Corner, Gannett Foundation, Clark Construction, Clark Enterprises, Inc., Medco Foundation, Genentech, Traci Lynn Fashion Jewelry, Thompson Hospitality, The Law Firm of Edward Neufville, III, Statefarm Insurance, Xerox Corporation and Alphagraphics. Media sponsors and supporters include Bisnow, Clear Channel's Hot 99.5 and Northern Virginia Magazine.
Tigerlily Foundation's programs assist young women (15 – 40) living with breast cancer with a variety of family and life services starting at diagnosis, through treatment and beyond. Services include education, a chemotherapy buddy program, buddy bag program, financial assistance, meals, life management support, empowerment services and services that help to improve the quality of life after breast cancer. The organization empowers them to celebrate their lives every day by harnessing their personal power. Tigerlily Foundation also has programs focusing on providing healthcare practitioners with education focused on young women and breast cancer.
Early bird tickets are $200. Ticket prices will be $250 after midnight, October 5, 2012. Funds raised from the event will benefit Tigerlily Foundation programs. To donate, buy tickets, purchase a table, sponsor or donate to the auction or swag bags, visit http://www.tigerlilyfoundation.org.