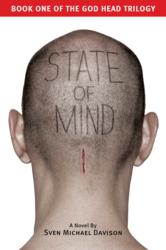 Once we let the government and businesses go down the road of nosing around in our lives… we're going to quickly lose all our privacy
Los Angeles, CA (PRWEB) June 04, 2012
Sven Michael Davison's soon-to-be published sequels to "State of Mind" continue to explore the moral dilemmas raised as humanity integrates on fundamental levels with technology. The first book of the "God Head Trilogy" deals with individuality and how much personal freedom and privacy someone might be willing to sacrifice in order to enjoy technological luxuries. The second book, "State of Union" examines society on the whole and it's ability to adapt and cope with a maelstrom of cyber-change. The third book studies artificial intelligence and how human influence and parenting will be crucial in determining if our new cyber-race is benevolent or hostile.
Sound farfetched? On Friday June 1, 2012 The New York Daily news released this article "'Human barcode' could make society more organized, but invades privacy, civil liberties." The cover story for the June 2nd – 8th issue of The Economist is titled: "Morals and the Machine: Teaching robots right from wrong." Given the number of real-life technology articles being released (have you seen the June 1st NYT article "32 Innovations That Will Change Your Tomorrow?"), along with a plethora of technological advances since the turn of the millennium, it would seem Ray Kurzweil's theory of "the Law of Exponential Returns" (the theory that advances in the field of technology increase exponentially every two years) is true and that we will be living with artificial intelligence equal to our own in the next twenty-five to thirty years... if not sooner.
In regards to the postulation that we should have chips implanted in our bodies for better security, Stanley, senior policy analyst at the American Civil Liberties Union has stated: "Once we let the government and businesses go down the road of nosing around in our lives… we're going to quickly lose all our privacy." (New York Daily News "'Human barcode' could make society more organized, but invades privacy, civil liberties" June 1, 2012)
The blending of man and machine is top of mind and whether we like it or not, it is coming. Science Fiction Writer, Sven Michael Davison's "God Head Trilogy" explores the darker side of this future, in the hopes that it will not come to pass.
"State of Mind" is a cautionary tale that examines the loss of freedom in a classic post-industrial dystopia. Jake Travissi, a fallen hero, is given a rare second chance at redemption. The price? Volunteer to have a computer chip implanted in his brain and join Homeland Security's experimental Enhanced Unit.
Davison wrestles with many of the most compelling themes of cyberpunk genre today: Should we embrace every technological advance without question? Should humankind blend itself physically with machines? What does freedom really mean? All of these questions are answered within a vivid tapestry where the boundaries between the virtual world and the real world have dissolved.
"Sate of Union," the sequel to "State of Mind" is still on track for release in late fall of this year. The third installment of the "God Head Trilogy" will be released in the early spring of 2013. That title will be announced around the time "State of Union" is published.
"Dreams, Faith & Ammunition," Davison's historical fiction novel will be released before the end of the month.
Sven Davison is a full time husband, father, and manager in a creative design agency in Los Angeles. He has written screenplays, trailers and special feature content for DVD and Blu-ray. "State of Mind" is his second novel.
"State of Mind" is a finalist and winner of two Dan Poynter's Global eBook Awards.
"A thoughtfully composed piece of cyberpunk that will please readers of both science fiction and noir." – Kirkus Reviews
"Davison's Los Angeles is pulpy- vibrant, an unforgettable wasteland. State of Mind is the world of the near future, the horrible synthesis of human desire and the technology to make it a reality. – ForeWord Reviews
"An intelligent, thought provoking, cinematic post-cyberpunk thriller and a great read."

"This book deserves to go directly to the 'Top Ten Best Sellers List.'" – Deb Shunamon, Reader Views.
"There are some crazy twists and turns in this novel and the end? One word… WOW. It totally blew me away. There are plenty of shocking, hanging on the edge of my seats moments." – Alice Bola, girls just reading
"State of Mind" is a tense, thoughtful and well-paced sci-fi tale drawn from Davison's life, imagination and his experiences with technological innovation. – "Attention Deficit Delirium" Pod Cast Interview by Bryan Reesman
For more information visit http://www.stateofmindbook.com