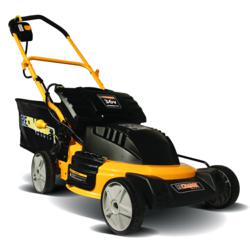 The Ultrapower is great addition to the Recharge Mower line available at Sears.com
Carson, CA (PRWEB) June 05, 2012
The New Recharge Mower ULTRAPOWER 20" PMLI-20 Cordless Lawnmower from Driven by Solar is now available through the Sears.com website (http://bit.ly/K8NOUz). The Recharge Mower ULTRAPOWER 20" features a robust 10.5Ah Lithium battery pack that provides exceptional performance. This battery offers over 600 charge cycles and translates into over 45 minutes of continuous cutting time.
"The Ultrapower is great addition to the Recharge Mower line available at Sears.com," says company President Allan Hechtman. "The New ULTRAPOWER 20" PMLI-20 adds a new and powerful mower choice to the customers of Sears.com."
The Recharge Mower ULTRAPOWER PMLI-20 Cordless Lawnmower offers all-metal construction and a 20" cutting path. The cutting height is easily adjusted to 7 increments from 1.75" – 3.75" using only 1 handle. The ULTRAPOWER design, allows this lawnmower to be easily maneuvered. Since the Lithium Powered Recharge Mower is battery operated, there is NO gas, NO oil and NO fumes. Simply plug the battery pack into the included Smart Charger and in only a few hours you're ready to go again.
The mower includes a rear position grass catcher, a mulching insert and also a deflector for side discharge. The ULTRAPOWER sets up in minutes with No Tools Required. The ULTRAPOWER can easily be transported or folded down for compact storage without worrying about fumes or spilling nasty fuel.
More details of the ULTRAPOWER Lithium Powered Recharge Cordless Lawnmower PMLI-20 are available by visiting the company website at http://www.RechargeMower.com or directly at Sears.com http://bit.ly/K8NOUz
Driven By Solar Inc., the company behind the Recharge Mower and Recharge Tools brands and registered trademarks, was established in early 2008. The company is focused on developing, producing and marketing a growing selection of environmentally friendly lawn and garden tools. The company can be reached at Info(at)rechargemower(dot)com or by calling 905-997-9300. The company credo… "A greener lawn. A greener planet." remains well entrenched.