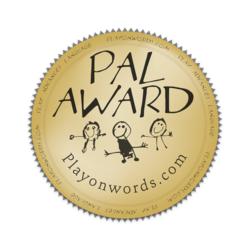 Thanks Sherry, you've taught me a thing or two about how my own products promote language development. (Lea Culliton, President, HABA USA)
(PRWEB) June 06, 2012
Play On Words LLC, led by highly respected speech therapist Sherry Artemenko, announces 2012's first PAL Winners. This recognition is the toy industry's only program directed by a credentialed speech and language expert recognizing the language learning edge in exceptional toys, games and books. Through their design, quality, and character, these PAL winners can generate experiences that advance language. Sherry's 35 years of child development experience with over 15,000 hours working with kids empower PAL selections, her popular blog, private practice, and media appearances. http://playonwords.com/in_the_media/
"I'm excited to see companies taking a close look at their products to find the language learning potential for ALL kids to play together. I love to point out specific educational strengths in their products so they can better serve children with captivating toys, books and games embedded with critical learning. It's fun to see the PAL Award seal on products from global enterprises to local start-ups. Companies know that parents want products that are fun but educational. The PAL Award seal says just that."
Spring 2012 Play Advances Language (PAL) Award Winners listed by language learning category:
EARLY DEVELOPMENT - Sherry's background in pediatric speech therapy gives her an eye for the best products to build physical and cognitive strength to prepare a child for her first sounds, words and sentences. From a toddler's first game, to shaking mini-maracas, kids learn essentials leading to language.
1) Roll and Play by Thinkfun
2) Creative Sorter by DUPLO lego
3) Mini-Maracas by HaPe International, Inc.
4) Lapiluv by Lapiluv, Inc.
5) Maxville by Alex Toys
6) Right Angle Tummy Triangle by Infantino
7) Tots Art Smart by Alex Toys
8) Wooden Mix And Stack Pop Shop by Alex Toys
9) At the Farm Wooden Books by HaPe International, Inc.
LANGUAGE STRUCTURE - These outstanding products build language structure, often teaching vocabulary, concepts or grammar while delivering fun. Performing a science experiment, searching for related objects or assembling a detailed 3-D globe all strengthen communication.
1) Balancing Burger! by International Playthings
2) Duo Pop by Discovery Bay Games
3) Find-It! Games - On the Farm
4) Move! Sing! Play Along and Learn! by Music Therapy Tunes
5) Sound It! Found It! by Wowopolis, LLC
6) Ticked Off by R and R Games
7) You've Been Sentenced! by McNeill Designs
8) Children's Globe Puzzleball by Ravensburger
9) Find It Games - Pieces of History Puzzles
10) The Magic School Bus Attracted to Magnificent Magnets by The Young Scientists Club
11) Your Body - Girl 5 Layer Puzzle by HaPe International, Inc. / beleduc
(PRE)READING - From racing to form words, identifying pictures beginning with specific sounds, or listening to a delightful picture book full of repeated phrases and bold words, children can pick up essential skills to promote reading.
1) Blind Spell by MindWare
2) Evening In The Stable by HABA
3) Magic ABC Duel by HABA
4) Mini Mouth by Thinkfun
5) Huck Runs Amuck! written by Sean Taylor
6) Sea of Dreams written by Dennis Nolan
7) Pathwords Jr by Thinkfun
STORY TELLING / PRETEND PLAY - When caring for a dog at the pet clinic, preparing and delivering Mario's pizza, or taking a swim at the Tropical Island Resort, children enter the world of pretend, creating their own stories with plenty of flexible props to guide them. Oral story-telling precedes writing as kids learn the steps to create a good narrative.
1) Arranging Game My Animal Friends by HABA
2) Wooden Sweets Bar by Alex Toys
3) Story Speller by Think-a-lot Toys
4) Think-ets by Think-a-Lot Toys
5) anamalz Jungle Box Set by anamalz
6) Betty Button by Alex Toys
7) Colorgami Kits by Wowopolis LLC
8) Doll Graham by HABA
9) K'Nex Classics 30 Model Building Set
10) Kid K'Nex Undersea Friends Building Set
11) Mario's Pizzeria by Ravensburger
12) My First 1.2.3 Knight's Castle by Playmobil
13) My Own Laundry by Step2
14) My Take Along Pet Clinic by Playmobil
15) Roary Building Set by Kid K'Nex
16) Sesame Street Best Friends Building Set by K'Nex
17) Tropical Island Resort by Step2
SOCIAL LANGUAGE - Pairing closely with pretend play, social language blossoms when children play with toys that encourage extended social interactions. Gather in a clubhouse to eat, meet or hide, serve up some pink Duplo cupcakes to pass at a pretend party or read a story that invites discussion on being befriended - left out - sad - happy.
1) Rollors by Maranda Enterprises
2) Yackety Smack! by Thinkfun
3) All Around Wagon by Step2
4) Creative Cakes by Duplo lego
5) Fort Slide-Away by Step2
6) Garden Salad by HaPe International, Inc.
7) My Clubhouse by Step2
8) Talking Tubes by Alex Toys
9) Terra Kids Construction Set Catamaran by HABA
10) Splish Splash, Splat! written by Rob Scotton
11) The Little Pea written by Eric Battut
Congratulations to our PAL Winners who are listening to their markets and delivering a powerful value proposition, namely, great language learning paired with play.
To see all Playonwords PAL Award winners, go to:
ABOUT PLAYONWORDS LLC
Playonwords.com was founded by well respected speech language pathologist, Sherry Artemenko, a 35 year champion of language driven play. Her esteemed PAL Award, popular blog, and helpful tips to parents set her apart as a leader advocating the language component in toys.
Over 15,000 hours working directly with children has shown her that a unique subset of the best toys, games and books have the capability to develop language while delivering great play. Studies show:

Kids with highest IQs at three, had the most words at one and two
Language learning is cumulative – early words => early sentences => language and reading
Most kids maintain their verbal advantage through childhood
Sherry established the PAL Award to identify unique toys, games and books that through their design, quality and character, encourage play that advances language. PAL winners in the hands of kids, spark fun and creative play with lots of talk. Such toys, recognized on the basis of her child development expertise, are complemented by practical coaching in her blog, showing parents how to get the most from toys, games and books to build language and underlying cognitive skills.