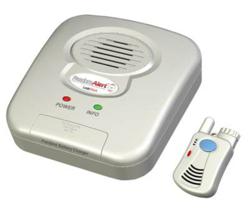 Houston, Texas (PRWEB) June 05, 2012
Sleep Restfully, Inc. is pleased to announce they have been selected as a distributor for the FreedomAlert Emergency Alert System manufactured by LogicMark. With the population aging and so many elderly Americans wishing to maintain an independent lifestyle the FreedomAlert can bring peace of mind not only to the emergency alert system user to but to family members wishing to be in contact when a special need arises.
Personal Security has never been so small or affordable. FreedomAlert is the first product ever to allow you instant 2-way speaker phone communication through your mini wearable pendant to family, friends, or neighbors, at anytime from anywhere in or around the home. If your programmed contacts are unreachable at the moment - the system can default to contact a 911 emergency operator. Never be out of range from assistance again.
Emergencies can happen in all parts of a home and frequently right outside a home in the yard or driveway. All other systems on the market require the user to shout across the home to a speakerphone box in the middle of the home. FreedomAlert puts the speakerphone right in the pendant - and gives great voice quality anywhere within hundreds of feet of the base unit
The user is able to personalize the system with a flick of a three position switch on the base unit to call up to 4 custom contacts or call up to 4 custom contacts and then the 911 emergency operators.FreedomAlert can also contact a free 911 emergency operator as a backup in case you cannot reach a family member or neighbor. This way the user is completely protected 24 hours a day, 7 days a week, 365 days a year. Your loved one is never alone with FreedomAlert.
Because the user is speaking through a pendant, FreedomAlert allows users to communicate their message from every corner of their home, outside in the yard and in the driveway. Emergencies can happen anyplace.
The FreedomAlert is easy for anyone to install. Plug in phone cord, power adaptor, and simply program contact numbers using a home touch• tone phone Pendant can be Carried in 3 Convenient Methods Included with each system is a Lanyard, a Wrist/Wheelchair Strap holder and a Belt Clip. Pick the one that suits the user's lifestyle.
Best of all there is never an activation fee or monthly service charge. FreedomAlert is the owners to keep and use forever. Once purchased there is nothing more to pay.
Sleep Restfully, Inc. has the FreedomAlert at an introductory price of $279.95, $20.00 off the normal price, for a limited time. For more information contact Sleep Restfully toll free at 866.923.2727.
Sleep Restfully, Inc. prides itself on the high quality customer service it provides to Sleep Therapy and Oxygen customers. Their slogan, "We may not be able to match everyone's price but no one can match our service" is exemplified by their Better Business rating of "A". They carry a complete line of sleep therapy equipment and supplies by ResMed, Philips Respironics, Fisher & Paykel and other manufacturers. In addition to CPAP machines and CPAP supplies, Sleep Restfully is your portable oxygen concentrator specialist offering the best prices and support for portable oxygen concentrators such as the Respironics SimplyGo, Respironics EverGo, Sequal Eclipse 3, Inogen G2, Invacare XPO2, Drive Medical Oxus and more. They also sell stationary oxygen concentrators such as the Philips Respironics EverFlo and Invacare Perfecto.
In addition, Sleep Restfully stocks all replacement parts for the CPAP machines and CPAP mask as well as replacement parts for all portable oxygen concentrators.
Sleep Restfully, Inc. can be contacted toll free at (866) 923-2727, or by visiting their website sleeprestfully.com.