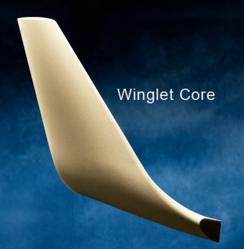 Tacoma, WA (PRWEB) June 06, 2012
General Plastics Manufacturing Company has named East Wonder International (EWI) its agent of choice in China's aerospace supplier market. East Wonder will import General Plastics' build-to-print flyaway materials for flight decks and interior cabins, providing distribution to original equipment manufacturers, and Tier 1 and Tier 2 companies in the mainland.
"East Wonder International, Inc. is widely recognized for its import and export trade expertise within the aviation industry in Asia, so we are thrilled to have them represent General Plastics to China's aviation producers," announced President Bruce Lind.
"China already represents the world's second-largest national air travel market, next to the United States, and its role is increasing in the global commercial aerospace market and supply chains," noted Lind. "This strategic alliance will help ensure that we are optimally positioned to capitalize on the explosive growth of the Chinese aerospace market that is projected to occur over the next 20 years."
EWI has built a strong local sales and service network in China, and is a well-established, authorized supplier for major Chinese airlines, aircraft manufacturing factories and aircraft maintenance bases. Its airline customers in China include Air China, China Eastern Airlines, China Southern Airlines, Shenzhen Airlines, Sichuan Airlines, Shandong Airlines, and Shanghai Airlines. Some of the aircraft manufacturers it serves there are Commercial Aircraft Corporation of China (COMAC), Xian Aircraft Corp., Chengdu Aircraft Corp., and China Aviation Industry General Aircraft Corp. (CAIGA).
After working with EWI for over a year, General Plastics was impressed with the distributor's extensive knowledge of the aerospace marketplace in China and its experience working with multiple vendors and SKUs.
"Our new agent agreement with East Wonder International accelerates General Plastics introduction to key players in the aerospace industry," Lind said. "New customers will benefit from responsive service and ready technical expertise to help them select, spec and use the right build-to-print material and parts for their particular application and project."
Continuing extension of company's aerospace capabilities
Lind expects demand for General Plastics' LAST-A-FOAM® FR-3700 and FR-6700 Aerospace-Grade Board Series to expand with increased distribution in the Chinese aerospace market. Both of these CFC-free, flame-retardant product lines are ideal for models and design prototypes; composite core; vacuum-form dies and mold patterns; and honeycomb edge closeout for aircraft interior sandwich panels (overhead stow bins, passenger cabin class dividers, galleys and lavatories).
In addition to supplying its signature LAST-A-FOAM® products, General Plastics machines and fabricates rigid and flexible foam materials into build-to-print parts to aerospace customer specifications.
About General Plastics Manufacturing Company
Tacoma, Washington-based General Plastics has been a leading innovator in the plastics industry for more than 70 years. The company develops and manufactures rigid and flexible polyurethane foam products, which include its signature LAST-A-FOAM® brand series and build-to-print composite parts. Through its network of distributors, General Plastics exports products to 25-plus countries for the aerospace and defense, nuclear containment, composite core, prototype and modeling, construction, dimensional signage, testing, marine and the renewable energies industries. General Plastics is certified to ISO 9001:2008/AS9100C and meets such demanding quality systems as NQA-1, Mil-I-45208A and Boeing Company D6-82479. Visit http://www.generalplastics.com.
About East Wonder International
Registered in the State of Massachusetts, USA, and operating in China through its fully owned subsidiary, Shanghai Ziheng Aviation Equipment Corp., East Wonder International serves as a distributor and sales agent in the aviation industry. It supplies flyaway products, ground-support equipment and consumable materials to the general aviation, commercial airline, aircraft manufacturing and government aviation markets. The company primarily serves the Asian region, including Mainland China, Taiwan, Hong Kong, Japan, South Korea, Singapore, Malaysia and Indonesia. EWI is ISO 9001 certified.