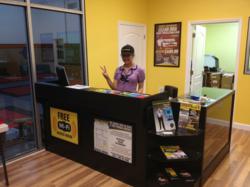 Fort Lauderdale, FL (PRWEB) June 05, 2012
Tint World, the nation's leading auto styling franchise, will hold a public grand opening event on Sunday June 10 to kick off a brand new auto styling center. The event is open to the public and will feature free food, gift card giveaways, a live radio broadcast, and special discounts on popular Tint World services like detailing and automotive window tinting.
The new store is the second Tint World location to open in the Fort Lauderdale area and is operated by local owner, Danny Shenko. Local residents of all ages are encouraged to stop by for plenty of free fun and entertainment, as well as the opportunity to browse the new center's state-of-the-art showroom, which features a wall of working product installs so customers can interact with audio, video, and other popular mobile electronics products.
Guests of the event can enjoy free catered food and entertainment from a live local radio broadcast and a variety of custom cars on display. There will also be prize giveaways including popular auto accessories, $50 Tint World gift certificates, plus Tint World t shirts and more promotional items will all be up for grabs. During this special event, Tint World will also be offering big discounts on window tinting, car audio upgrades, HID lighting and auto detailing services for all in attendance.
The grand opening will be a day of fun for all ages and a great opportunity to find free and discounted auto styling services from the nation's leading window tinting and auto styling franchise. To join in, guests can stop by Sunday June 10th at the new store location, 1260 W. Sunrise Blvd Fort Lauderdale, FL.
About Tint World®
Established 1982 in Tamarac, Florida, Tint World® is now the leading franchised provider of automotive, residential, commercial, and marine window tinting and security film services in the US. Tint World® Automotive Styling Centers also offer auto security, mobile electronics, performance and styling accessories, custom wheels and tire packages, auto detailing, and reconditioning services.