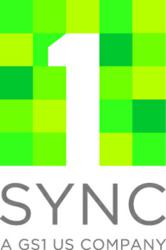 "These companies and individuals have shown remarkable leadership and innovation that have inspired enhancements in data quality and processes, and increased adoption of data synchronization." -- Bill Voltmer, president of 1SYNC
Las Vegas, NV (PRWEB) June 05, 2012
1SYNC announced the recipients of its Power of 1 Awards here at GS1 Connect 2012, the information standards organization's annual conference. The winners were Heinz North America, McLane Company, PepsiCo, Sears Holdings Corporation, The Kroger Co., and Sandy Douglas, president of Coca-Cola North America.
The awards were presented at a special reception by 1SYNC, a subsidiary of GS1 US and the industry leader in data synchronization and product data management (PDM). 1SYNC has loaded more than 6 million Global Trade Item Numbers (GTINs) in the Global Data Synchronization Network (GDSN), serving thousands of global users and synchronizing nearly 60 million transactions annually.
"The Power of 1 Awards honor organizations that have made the greatest impact on the 1SYNC community of trading partners through their exceptional work in product data management and GDSN initiatives," said Bill Voltmer, president of 1SYNC. "These companies and individuals have shown remarkable leadership and innovation that have inspired enhancements in data quality and processes, and increased adoption of data synchronization."
The 2012 1SYNC Power of 1 Award recipients are:
Data Quality (Supplier): Heinz North America. As part of a comprehensive Data Quality/Data Governance Program, Heinz customized the 1SYNC Data Accuracy Scorecard for its U.S. business. The application captures and shows foodservice and retail business items and highlights both inaccurate and missing data, allowing Heinz to correct any inaccuracies prior to publishing in the GDSN.
Data Quality (Recipient): McLane Company, which has implemented, supported, and adopted one of the leading Data Quality processes in the network. New item information is received from the GDSN and all the data goes through a rigorous verification process. McLane has also centralized this Data Team in their corporate office, which acts as the central hub, feeding data to 20 distributions centers.
GDSN Adoption (Manufacturer): PepsiCo, which has consistently demonstrated leadership since the inception of the GDSN. Currently using about 10,000 GTINs, PepsiCo has provided vision and direction both in the development of standards and the expansion of the network. PepsiCo facilitates many cross-industry standards-based workgroups while providing education and training on GDSN best practices and implementation to a number of trading partners.
GDSN Adoption (Recipient): Sears Holdings Corporation has shown a strong commitment to using data synchronization for item set-up and maintenance, requiring all new vendors to synchronize new item information. In just over three years, its GDSN vendor adoption rate has grown significantly, doubling over the past year, which has enabled more accurate trading partner data and further GDSN expansion. Sears Holdings has a robust trading partner collaboration, education, and awareness process that supports its current GDSN category-by-category expansion plans.
Innovation: The Kroger Co. is creating a new master data management system and process predicated on GDSN implementation. The Kroger Co. is setting a game-changing expectation of the supplier community to leverage deeper and richer attributes of product data delivered from the "source of truth" – the brand owner's systems. The result will be to increase speed to shelf and to reduce time and labor associated with data management, while ultimately ensuring quality business and consumer-focused product data throughout the Kroger enterprise.
1SYNC Compass Award: Sandy Douglas, president of Coca-Cola North America, has overseen a strong growth of GDSN adoption during his involvement with 1SYNC. Through his leadership, Coca-Cola has always endorsed the use of GS1 and GDSN standards throughout its business. A former chairman of the GS1US Board of Governors, Sandy, along with the Coca-Cola team, has assisted many industry groups in embracing the use of GDSN, including the expanding adoption of GDSN in the foodservice space. Under his leadership, Coca-Cola has been at the forefront of the industry to educate, implement, and support its partners in the use of GDSN, from the early days to today and moving forward.
About 1SYNC: 1SYNC, the largest certified data pool in the Global Data Synchronization Network (GDSN), is dedicated to the implementation of standards-based, global supply chain solutions. 1SYNC offers a robust, easy-to-use solution that can reduce costly data errors and increase supply chain efficiencies for companies of all sizes. The growing 1SYNC community consists of 60 leading recipients and more than 6,000 suppliers worldwide. These customers are synchronizing product data on more than 6 million items in the GDSN. http://www.1SYNC.org.