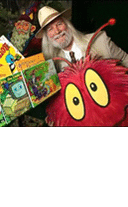 "Laughing Day is a delight! It seems to me we grownups could use a large helping of this (Laughing Day) philosophy as well."
Betty White (Actress/animal Activist)
San Diego, CA (PRWEB) June 13, 2012
An Alpine Publishing representative announced today, "Dr. Hope is having a cool Father's Day book giveaway contest. Just go to Tim "Dr. Hope" Anders Facebook Fan page at:http:// http://www.facebook.com/TimDrHopeAnders and click on 'Enter Book Contest Here' to win a First Edition personally autographed copy of one of his critically acclaimed books. His bilingual children's books will help your child get a head start on life by teaching them valuable life lessons, now you can win one for FREE by entering Dr. Hope's Father's Day book contest."
Dr. Hope's bilingual children's books featured in this contest are: Laughing Day/ El Día Para Reír, which teaches the joy in helping others; Chip, the Little Computer/Chip, El Pequeño Computador, which teaches the power of believing in your dreams; and Wonderful Wuzes/ Fues Maravillosos which teaches the value of living in the present moment.
When Tim "Dr. Hope" Anders was a little boy it was the stories told to him by his mother that helped him get through some tough times. When he was forcibly removed from her custody and placed into foster care and state run dormitories it was remembering his mother's stories that helped him keep an optimistic attitude. When he grew up he made a promise to himself that one day, he would write children's storybooks to help little kids get a head start in life.
That promise has turned into the Award-winning "Life Lesson Series" of children's storybooks (some of which are written in English and Spanish) that has garnered kudos from a "who's who" list of celebrities. Here's what they are saying about one of his bilingual storybooks, "Laughing Day/El Dia Para Reir":
"Laughing Day is a delight! It seems to me we grownups could use a large helping of this (Laughing Day) philosophy as well."
Betty White (Actress/animal Activist)
"Laughing Day is a delightful book full of important lessons for all of us." Priscilla Presley (Actress)
"Laughing Day is charming and does exactly what you say it will (delivers a message that will help children throughout their lives"
Charlton Heston (Actor)
"...this work will touch the hearts of many children."
Dyan Cannon (Actress)
To read more excerpts from letters written to Dr. Hope, please go to: http://www.laughingday.com
"My goal is to teach kids valuable life lessons that will help them for the rest of their lives, just go to my Facebook Fan page at: http://www.facebook.com/TimDrHopeAnders and click on 'Enter Book Contest Here' to win a FREE First Edition personally autographed copy of one of my storybooks," said Dr. Hope.
To learn more about Dr. Hope's books go to:http:// http://DrHope.com