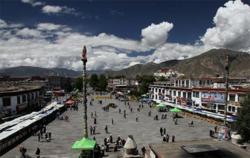 Lhasa, Tibet (PRWEB) June 06, 2012
From June to November Lhasa is the premiere travel destination for Tibet tourism. Songtsan Travel announces a 5-day tour of the most important sights in the city, encompassing historical, religious and cultural monuments and institutions. Songtsan Travel is a locally-owned and operated agency, committed to customer service and improving the livelihood of Tibetan children through education initiatives.
Highlights of the Lhasa tour include:

Potala Palace—Potala Palace is the symbolic center of Tibetan life. Most visitors will recognize this iconic building from depictions in photos and paintings. It was built by the 5th Dalai Lama in the 17th century, and is named for Mt. Potalaka, the heavenly home of Chenrezig, the Buddha of Compassion. The palace has over 1,000 rooms in 13 stories and is the traditional home of the Dalai Lama and the seat of Tibetan government.
Sera and Drepung Monasteries—Not far from the city are the Sera and Drepung monasteries, which are two of the three most important religious and scholastic institutions of the Gelugpa sect of Tibetan Buddhism.
Ganden Monastery – Ganden monastery, located about 45km east of Lhasa, is a monastery of the Geluk order. It was founded in 1409 by Tsongkhapa on the Gokpori ridge of Mount Wangkur. After later additions, the monastery came to support more than 5,000 monks. During the Cultural Revolution of the 1960s the monastery was destroyed. In the 1990s, the buildings of the monastery were rebuilt and renovated, and 1,660 square meters of murals have been restored over the last four years.
Jokhang Temple and Barkhor Circuit— In Lhasa's old town travelers will discover the ancient Jokhang Temple surrounded by a famous circumambulation route that passes through the bustling Barkhor market.
Songstan Travel is a Lhasa-based tour operator with more than 20 years of experience leading Tibet tours. The agency uses part of its proceeds to provide education to disadvantaged children. Songstan Travel seeks to promote Tibetan culture and help Tibetans improve their livelihood.