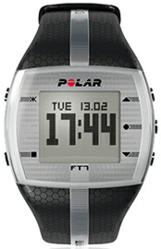 Heart rate monitors are tools, not commodities the way Amazon sells them.
Bozeman, MT (PRWEB) June 05, 2012
Recently the Heart Rate Watch Company evaluated the 5 best general fitness heart rate monitors for under $100. The criteria boiled down to features, integration with gym equipment, styling, readability and ease of use. Other factors included manufacturer support and training resources, like videos.
"Since all we do is heart rate monitors we tend to take a pretty holistic approach in our evaluations," says Rusty Squire, President of the Heart Rate Watch Company. He adds, "This is why we provide things like training video links on our website and even a free book on how to properly use them - heart rate monitors are tools, not commodities the way Amazon sells them."
THE TOP 5
#1 - Polar FT7 - The Polar FT7 is the best, most reliable and most popular heart rate monitor on the market today in the under $100 category. Polar FT7 is better integrated with gym equipment, offers training videos, graphical zone indicators, the comfortable fabric Wearlink chest strap, and can even download data to Polar personal trainer software with an optional Flowlink device. The Polar FT7 comes in two styles for men and two for women.
#2 - Suunto M2 - The Suunto M2 has the largest font display of heart rate of any heart rate monitor on the market today. It also uses the very comfortable Suunto Comfort belt fabric strap. This watch is ideally suited to those who need a larger more readable font and comes in a men's and women's style. The M2 does not support download to Suunto Movescount software but does give a nice workout summary and is fairly easy to use.
#3 - Polar FT4 - The Polar FT4 supports most of the same functionality as the Polar FT7 but it does not support data download so in this regard it is more like the Suunto M2 where you get a workout summary. The FT4 also includes the soft Wearlink chest strap and has all user changeable batteries, as do all the watches we selected as this was an important criteria. There is no sense buying a budget heart rate monitor only to have all your savings lost to postage for battery changes.
#4 - Polar H7 Bluetooth Strap for iPhone 4S and Motorola Razr - This is the only non-watch based heart rate monitor in the group. Polar recently introduced the Polar H7 Blueooth 4.0 LE strap, as did Wahoo Fitness with their Wahoo Blue HR. The Polar H7 is fully integrated with more gym equipment than any other strap and works with most Polar watches, which is a double bonus. You'll need an app with you iPhone 4S or Motorola Razr to use the strap but it avoids the expense of a dongle for ANT+ transmission that previous units needed. Also the strap lasts twice as long thanks to the low energy Bluetooth 4.0.
#5 - Timex Road Trainer - The Timex Road Trainer has a lot of timing features like countdown timers and lap timers that some of the other sub-$100 heart rate monitors lack. Timex has always been good with timing features. There are two men's and three women's styles in the Road Trainer and its not a bad looking everyday watch.
"As we expected Polar dominated the sub-$100 category. Garmin does not have any heart rate monitors for under $100 and in our mind most of the strapless stuff isn't worth it, so this excluded a lot of manufacturers and models that, in our opinion are sub-par," said Squire.