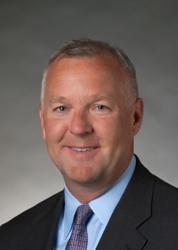 "The company has an incredible brand based on delivering 'best in class' investment management expertise and solutions and I'm proud to be part of this exceptional company," said Cieszko.
Kansas City, MO (PRWEB) June 05, 2012
American Century Investments' Senior Vice President North America Peter Cieszko, who joined the company in August 2011, has been named to the firm's Management Committee, the seven-person senior leadership team that oversees all key functional areas of the company. Reporting to American Century President and Chief Executive Officer Jonathan Thomas, Cieszko's new title is Chief Client Officer - Americas with responsibility for all North and South American sales and distribution activities in the institutional and financial intermediary channels.
"Peter's appointment to our Management Committee is in recognition of the tremendous experience and leadership he's brought to his role overseeing two key growth areas for American Century -- institutional and intermediary sales," said Jonathan Thomas. "His industry knowledge and relationships have been invaluable as we work to meet the evolving needs of our clients. On behalf of the entire Management Committee and the company, I congratulate Peter on this well-deserved appointment."
Based in New York, Cieszko continues to work with the company's institutional and intermediary sales leadership to deliver the firm's investment management expertise and solutions to corporate and public pension plans, endowments and foundations and Taft Hartley clients, as well as wirehouses, regional and independent advisors, registered investment advisors, banks and insurance companies. Cieszko and Michael Green, head of American Century's international business, will continue to work collaboratively on a coordinated global sales and distribution strategy.
"Congratulations to Peter on his elevated position on our leadership team," said Michael Green. "Since joining us last year, he's spearheaded a number of initiatives designed to build upon our recent momentum. Working together, we are creating a distribution strategy that is better aligned with the global ambitions of our clients, as well as American Century."
In addition to Cieszko, the company's Management Committee is now comprised of CEO Jonathan Thomas, Chief Operating Officer Barry Fink, Chief Investment Officer Enrique Chang, Chief People Officer Mark Gilstrap, Chief Marketing Officer Mark Killen and Chief Client Officer - International Michael Green. Led by Thomas, this senior leadership team is charged with establishing the company's strategic priorities and ensuring collaboration across all functional areas in order to achieve enterprise goals.
"I am honored to join the Management Committee and sincerely appreciate the trust and confidence American Century has placed in me to help guide this important client relationship function," said Cieszko. "Since my arrival at the firm last year, I've been very impressed by both the quality of its people and the integrity and ethics of the entire American Century organization. The company has an incredible brand based on delivering 'best in class' investment management expertise and solutions and I'm proud to be part of this exceptional company."
Cieszko came to American Century Investments from Fidelity Investments Institutional Services Company, where he served as president of the business unit that provides investment management services to financial institutions. Prior to Fidelity, Cieszko was president and chief executive officer of Evergreen Investments, the investment management arm of Wachovia, which was later purchased by Wells Fargo. At Evergreen, he also served as president of global distribution where he was responsible for the firm's distribution, product and long-term growth strategies.
Cieszko joined Evergreen from Legg Mason, where he was head of U.S. distribution and also served as head of the U.S. retail and high-net worth businesses of Legg Mason's predecessor firm Citigroup Asset Management. Throughout his 25-year financial services career, Cieszko has held various senior leadership positions with Nuveen Investments, Montgomery Asset Management, E.F. Hutton & Company and Merrill Lynch. He graduated from Villanova University with a bachelor's degree in business administration.
American Century Investments is a leading privately held investment management firm, committed to delivering superior investment performance and building long-term client relationships since 1958. Serving investment professionals, institutions, corporations and individual investors, American Century Investments offers a variety of actively managed investment disciplines through an array of products including mutual funds, institutional separate accounts, commingled trusts and sub-advisory accounts. The company's 1,300 employees serve clients from offices in New York; London; Hong Kong; Mountain View, Calif. and Kansas City, Mo. James E. Stowers Jr. is founder of the company, Jonathan S. Thomas is president and chief executive officer and Enrique Chang is chief investment officer. Through its ownership structure, more than 40 percent of American Century Investments' profits support research to help find cures for genetically-based diseases including cancer, diabetes and dementia. For more information, visit http://www.americancentury.com.
Before investing, carefully consider a fund's investment objectives, risks, charges and expenses. Go to americancentury.com for a prospectus or summary prospectus containing this and other information. Read it carefully.
American Century Investment Services, Inc., Distributor
©2012 American Century Proprietary Holdings, Inc.