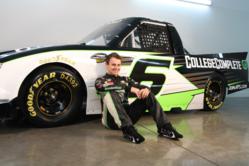 Adding up those top fives, top-10s are important, but ultimately, we want to contend for the win every week and we know we're capable
Sea Cliff, New York (PRWEB) June 05, 2012
NASCAR Camping World Truck Series (NCWTS) points leader Justin Lofton rolls in to the Lone Star state this week with a streak of momentum, consistency, and, a strong Eddie Sharp Racing Team. The combination has provided Lofton with a race win, three top-five, and six top-10 finishes spanning the first six events. The results have catapulted him into the points lead. Despite holding the top spot, Lofton wants more, noting that a one-point lead just isn't comfortable enough. Enter Texas.
Just two races removed from his first career NCWTS win, Lofton will climb back behind the wheel of the same No. 6 College Complete Chevrolet (http://www.collegecomplete.com, 877-543-2655) Silverado this week for the WinStar World Casino 400k at the Texas Motor Speedway that he drove to victory in Charlotte.
"It seems like no matter which truck we take to the track, we're strong. But to have that truck, it gives us a little extra because we know how good it is," Lofton said. "Adding up those top fives, top-10s are important, but ultimately, we want to contend for the win every week and we know we're capable. We've proven that with the win at Charlotte and leading some laps in Dover. I'm really looking forward to Texas. It's a fun, fast track and we know we have the speed for it."
This week Lofton will be stressing the Free Education Advice provided by his sponsor CollegeComplete.com. Through discussions in Dover last week, Lofton learned about how unemployment rates decrease as education increases.
In the most recent Bureau of Labor Statistics employment report, he saw that those without a high school education are at a 13% unemployment rate but that those with at least some college or an associate's degree see that rate drop to 7.9%. The rate drops to only 3.9% for those with a bachelor's degree or higher.
College Complete has partnered with Lofton to provide free education advice to all and looks forward to hearing from people on their website or by telephone 877-543-2655.
Lofton has four previous Truck Series starts at the 1.5-mile Texas track with two 10th place finishes to his credit. Last November the California racer started sixth and led six laps before finishing 10th.
Lofton will climb behind the wheel of his No. 6 College Complete Chevrolet for practice and qualifying on Thursday before taking the green flag for the 167-lap race on Friday at 9:00 PM eastern time.
Fans hoping to meet the points leader while he is in town for the event can do so at the Denton, Texas Camping World store at 5209 I35 North on Wednesday night from 7 to 8 PM. Lofton will be on hand signing autographs and meeting fans with Eddie Sharp Racing teammate Cale Gale.
You can follow Justin Lofton (@JLracing) and College Complete (@CollegeComplete) on Twitter to get up to the minute information and contest information.
About College Complete
Partnered with hundreds of educational institutions and across all types of education goals, including traditional college degrees, trade and vocational certifications, and professional licensure, College Complete helps students assess all of the information that exists in the public domain, allowing them to understand and make sense of their educational opportunities. Their services are free and available to anyone. Whether you are interested in Art and Design, Business, Computers and Technology, Criminal Justice, Education, Healthcare and Medical, Science and Engineering, and much, much more; if you're an Electrician, a Nurse, an Automotive Mechanic, a Teacher, a Police Officer, or you're simply interested in learning Computer Programming, Networking, Web Development, or Graphic Design College Complete is available for you at no cost. You can reach them by filling out a form on their site or calling to speak with your personal Education Advocate at 877-543-2655. College Complete has an initiative to assist those in the US Armed Forces and their families and is able to assist in identifying schools that will not only provide the educational requirements of the soldier, veteran or family member but will do so in a cost effective manner.