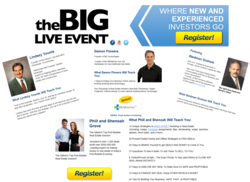 What I do (in real estate) works in today's real estate marketplace and will work in Denver, Colorado.
Denver, CO (PRWEB) June 07, 2012
Phill Grove, creator of the Assignment of Mortgage Payments System and the All In One Done For You Real Estate System, is hosting a live seminar this Friday-Sunday in Denver, Colorado. The event is free; simply register at http://www.reimaverick.com/Denver-BLEPR2.
Phill Grove, and his wife, Shenoah Grove of Hippie Hollow Homes, will be teaching the following:

12 Unique Strategies to make money Investing in Real Estate
-Including: swaps, mortgage assignments, flips, wholesaling, wraps, auctions, options, short sales, and 4 more...

25 Ways to brand yourself to get deals to find you.
75 Questions To Ask A Seller To Get Them To Sell to you
9 Tested/Proven Scripts - The Exact Words To Say (and When) to Close any deal.
21 Ways to analyze any deal To Make Sure it's profitable.
15 Ways to finance any deal Using other people's money
plus special guest speakers
"I've had a great deal of success in real estate utilizing multiple real estate strategies to help me complete over 1,200 transactions since 2003," says Mr. Grove, owner of real estate companies Love American Homes and Hippie Hollow Homes in Austin, Texas. "My goal is to show others how to do it as well. I will be detailing, step by step, what I have been doing and continue to do in real estate. What I do works in today's real estate marketplace and will work in Denver, Colorado."
In addition to Phill and Shenoah, Mr. Grove will also have the following guest speakers:

Stedman Graham- CEO of S. Graham & Associates in Chicago. Oprah Winfrey's significant other. Mr. Graham will teach about how to transcend obstacles and build relationships with those that have positive spirits and strong interpersonal skills.
Lindsey Younts- Founder of the Nation's Top Bulk REO Wholesaler, Econohomes, who has more than 28 years of experience in real estate and construction. Lindsey will demonstrate how to find evaluate, finance, buy, fix, and flip an unlimited number of Bulk-REO properties without leaving the house.
Damon Flowers- Founder of REI Technologies and the creator of the REIMatcher.com, the marketplace for non-traditional real estate, will perform a live demonstration of REIMatcher.
For more information on this real estate training event, please visit http://www.reimaverick.com/Denver-BLEPR2.