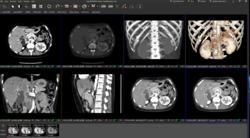 With Visage 7, the largest multi-slice datasets and priors are completely navigable in seconds with protocols that hang studies how radiologists have always wanted to see them but never could.
San Diego, CA (PRWEB) June 06, 2012
Eye opening demonstrations, integrations and Visage Ease 1.2 at SIIM 2012
Visage Imaging, Inc., a wholly owned subsidiary of Pro Medicus Ltd. (ASX: PME), announced today they will be demonstrating significant enhancements to the Visage® 7 Enterprise Imaging Platform at the Society for Imaging Informatics in Medicine (SIIM) 2012 Annual Meeting in Orlando, FL, June 7-9. Visage 7's amazingly fast, thin-client, server-side processing technology delivers enterprise diagnostic and clinical viewing solutions for healthcare institutions seeking to dramatically accelerate and enhance the delivery of radiology services.
Building upon their industry-leading enterprise-class technology platform, Visage Imaging has masterfully strengthened Visage 7 in the areas of performance, usability, integration, workflow, automation and advanced clinical capabilities. Each provide incremental improvement to the Visage 7 platform, but collectively raise the bar to new heights for enterprise imaging customers. With Visage 7, institutions can execute transformative enterprise imaging strategies with a multi-dimensional, all native enterprise viewer that simply outclasses obsolete, legacy technologies.
"Change is at the doorstep of Radiology, " said Brad Levin, Visage Imaging's General Manager, North America. "Enterprise imaging is experiencing an innovation makeover and Visage is pleased to be leading the way. When massive DICOM datasets no longer have to be fully transferred from location to location to location, miraculous workflows come to life." Levin continued, "With Visage 7, the largest multi-slice datasets and priors are completely navigable in seconds with protocols that hang studies how radiologists have always wanted to see them but never could. I'm referring to attributes such as on-the-fly reconstruction(s), 3D volume rendering, automatic co-registration and comparative views brilliantly presented upon loading. Visage 7 truly delivers what's next, now."
Visage Imaging is also pleased to announce the release of Visage Ease* 1.2 for mobile access to imaging results on iOS devices, including the iPhone and iPad. When used in tandem with Visage 7, Visage Ease gives authorized providers immediate access to imaging results without the need to manage separate servers or third party technologies. More importantly, Visage Ease now includes novel protocol handler (e.g., visage://…) support to power app-to-app integration, such as launching images in context from mobile EMR applications.
The agnostic, integration flexibility of the Visage 7 Enterprise Imaging Platform will be on display in Visage Imaging's SIIM Booth #319-321 with demonstration of closed loop integration to Nuance PowerScribe 360 | Reporting with Multi-site Workflow Orchestrator and integration to Voyant Health's TraumaCad for orthopedic templating. Additionally, Visage 7 integration to Medicalis' Professional Solution, Workflow Platform for the Enterprise Radiologist, will be demonstrated in Medicalis' SIIM Booth #612-614.
Visage Imaging is also pleased to announce Bobby Roe, Director of Solutions Architecture and Customer Experience, will be participating in an expert vendor panel moderated by Dr. David Hirschorn, Staten Island University Hospital, entitled "Medical Imaging? There's an App for That!" The highly anticipated vendor panel is focused on the latest developments in medical imaging mobile applications and will be held on Thursday, June 7 from 2:45–3:45 pm in the SIIM 2012 Exhibit Hall/Cypress Ballroom/Innovation Theater.
*Note: Visage Ease is not a medical device and should not be used for diagnosis.
About Visage Imaging, Inc.
Visage Imaging is a global provider of enterprise imaging and advanced visualization solutions for diagnostic imaging and clinical research. For diagnostic imaging, Visage 7 delivers amazingly fast server-side rendered images streamed via an intelligent thin-client viewer. Radiologists and referring physicians have a customized, protocol-driven workflow to natively view 2D, 3D, 4D and advanced visualization imagery across a single desktop. Powerful imaging solutions include enterprise viewing and interpretation; image enablement of EMRs, VNAs, HIEs and portals; RIS/PACS, as well as anywhere mobile access. For clinical research, Amira is a proven high-performance visualization and analysis platform for life science and biomedical data used by the world's most prominent institutions. At their core, both Visage 7 and Amira share proven visualization technology, helping thousands of researchers and physicians worldwide overcome their research and clinical challenges. http://www.visageimaging.com
About Pro Medicus Limited
Pro Medicus Limited [ASX: PME] is Australia's leading medical IT and e-health provider. Founded in 1983, the company provides a full range of integrated software products and services to hospital, imaging centers and health care groups worldwide. http://www.promedicus.com
# # #
Contacts:
Brad Levin, General Manager, North America and Vice President, Global Marketing
Visage Imaging, Inc./ Pro Medicus Limited
Phone: (703) 858-5758 or 540-454-9670
E-mail: blevin(at)visageimaging(dot)com
Visage, Visage Imaging, and Visioneering Science for Life are registered trademarks of Pro Medicus Limited. Other product and company names mentioned may be trademarks and/or registered trademarks of their respective holders.