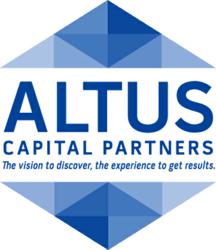 Wilton, CT (PRWEB) June 06, 2012
Wilton, CT, June 6, 2012 – Altus Capital Partners, a leading investment firm focused on middle market manufacturing companies in the U.S., announced today the acquisition of International Imaging Materials, Inc., a global leader in the production thermal transfer printing consumables. Altus, along with the company's senior management team, made this investment to participate in the expected global growth and adoption of thermal transfer applications. The financial terms of the investment were not disclosed. The sellers were Norwest Mezzanine Partners and members of the senior management team.
International Imaging Materials ("IIMAK") is headquartered in Amherst, New York and also has operations in Geel, Belgium; Rio, San Paulo and Manuas, Brazil; and Reynosa, Mexico. IIMAK is a global leader in the development, manufacture and distribution of thermal transfer ribbons, which are used to print "on demand" barcode labels, high durability product labels, outdoor signage, and flexible packaging. IIMAK also specializes in development and manufacturing of direct thermal films, specialty coatings and adhesives, and fluid inks.
Richard A. Marshall, IIMAK's Chairman and Chief Executive Officer, said, "We are extremely excited about the opportunity of working with Altus Capital Partners to accelerate growth and create additional value through geographic expansion, introduction of new technology and strategic acquisitions. The employees of IIMAK have put forth a great deal of effort to be recognized among the most respected and trusted suppliers in the automated identification industry. Coupling this industry record with the investment and energy of Altus Partners gives all of us at IIMAK a great feeling of optimism for our future."
Russell J. Greenberg, Managing Partner of Altus Capital Partners, commented, "Altus is pleased to partner with the IIMAK's management team in acquiring one of the top three worldwide producers of thermal transfer ribbons with over 1,900 customers, including OEMs, major retailers, value-added resellers and distributors. We recognize and value management's depth of capabilities, which has earned IIMAK its industry leadership position. We look forward to working with and supporting management to expand its applications and its global customers."
IIMAK offers a complete line of thermal transfer ribbons to meet all variable printing needs. Furthermore, the company has exceptional research and development capabilities that allow it to offer customers the ability to formulate unique printing inks and to develop coatings that can be applied to a variety of substrates. At the same time, the IIMAK management team will continue to pursue international growth opportunities where the ability to produce bar coding and auto ID are becoming requirements in developing economies.
About International Imaging Materials, Inc.
Founded in 1983, IIMAK is a global leader in the development, manufacturing and distribution of printing, imaging and marking consumable supplies. Website: http://www.iimak.com.
About Altus Capital Partners
Headquartered in Wilton, CT with offices in Lincolnshire, IL, Altus Capital Partners invests alongside management in profitable U.S.-based manufacturing companies to help seize their current growth opportunities and solve succession challenges. With over 55 years of combined investment experience, Altus' partners utilize their extensive knowledge to enhance the value of a company through management buyouts, recapitalizations, consolidations and divestitures. Website: http://www.altuscapitalpartners.com.
# # #
Media Contact:
Rosalia Scampoli
Marketcom PR
212-537-5177, Ext 7
rscampoli(at)marketcompr(dot)com