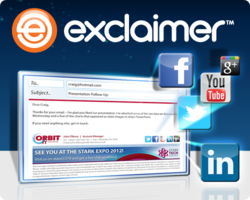 Every company has masses of fans waiting - their email contacts.
(PRWEB UK) 21 June 2012
Exclaimer launch their free guide to using social media in email signatures today - their research suggests it could help increase traffic and engagement by 17%, they explained.
"Every company has masses of followers, fans and advocates ready and waiting - their email contacts," clarified Neal Stanborough, Exclaimer marketing manager.
"With a Facebook 'Share' or Twitter 'Follow' button under everyone's signature, you instantly reach a totally new but already informed and interested set of followers with your social media activity.
"And by displaying your latest Tweet, update or blog post in your signature, every email encourages them to keep coming back for more."
Companies may be able to supplement their social media audience by up to 17%, according to Exclaimer's preliminary research.
Exclaimer provides email signature software for marketing or IT staff to centrally control and instantly update every employee's signature - even on mail from mobiles and OWA.
With it, an admin can add social links or updates to email signatures – and even vary them between teams: show a 'Share' link on email from HR but a 'Recommend' link on tech support emails.
The guide to social media in email signatures is available on Exclaimer's site, along with a technical handbook on setting up the features it assesses.
"Everyone is concerned about keeping up with social media," observed Exclaimer CEO Andrew Millington, "we've laid out common sense fundamentals that anyone can implement – and everyone can benefit from.
"For 12 years, we've been the provider of choice for 37 million users in Fortune 500 companies, technology giants and SMBs alike.
"This guide is just another tool to help them get the most from mail."