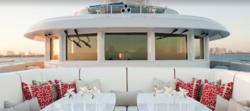 It is this measurement of recognition for excellence that makes us very excited to have been chosen as the 100 top leading interior designers in the UK by House & Garden
(PRWEB) June 08, 2012
House & Garden's June 2012's edition included award-winning international London interior designers Intarya in there directory guide to the top 100 leading interior Designers.
If House & Garden is to be the standard bearer of the best in interior design, it follows that they must champion the men and women in the profession too. That is why they publish this directory every three years – a list that is complied after exhaustive research. Some of the names belong to large companies with an international reputation, others are individuals of outstanding talent. Just under 20 per cent are now new entries since 2009.
The interior-design industry in the UK makes a significant contribution to the economy, nourishing many satellite businesses such as antiques and fine-art dealers, British manufacturers and craft-based enterprises. Exports also benefit from our world-renowned interior designers, and work by them on foreign-owned property generates huge amounts of overseas revenue. Split across this and next month's issue of House & Garden you will find 100 interior designers and 100 different approaches to design.
Some create, some interpret, some are subtle, some are eccentric. Some are historically expert, some are minimal and some prioritise comfort. Some of these decorators will help you spend a fortune well and some will help you save money. However, they all have one thing in common: they have earned their place here by doing what they do excellently.
"It is this measurement of recognition for excellence that makes us very excited to have been chosen as the 100 top leading interior designers in the UK by House & Garden" says Daniel Kostiuc (CEO of Intarya).
Intarya was originally set up in 1994 as Lifestyle Interiors, and the rebranded company now works on residential and commercial projects worldwide. As its newly appointed managing director, Brazilian designer Daniel Kostiuc heads a team of 12 designers and architects. Daniel studied interior architecture at UCLA and has worked on five-star resorts, boutique hotels and private homes.
Intarya's current high-end luxury commissions include a palace in the Middle East, a three-storey residence with a courtyard overlooking Hyde Park, and a two-bedroom pied-a-terre in central London.
They say designing a home is an intimate process so a consistent hand is essential. We stay true to the clients' brief, while creating something totally individual. Our designs provide quality, comfort and understated luxury.
We say a professional and versatile team, as happy to design traditional country residences as uber-cool city penthouses, with luxury as the watchword. With Daniel at the helm, Intarya is moving into the super-house league.
Favourite luxury detail? The technique of embedding rich fabrics with concrete, and creating beautiful abstract patterns by mixing polished and textural plaster.
Intarya has been at the forefront of London's interior design industry since 1994, creating spectacular and acclaimed interiors for some of the most discerning and design-aware clients. Working in the UK and internationally, their portfolio of projects includes grand townhouses, historical grade-listed country houses, palaces, penthouses, apartments and chalets.
For more information please visit http://www.intarya.com