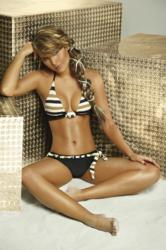 Simple, Sexy, and Sophisticated
Gilbert, Arizona (PRWEB) June 13, 2012
Farfalla-blu's swimsuits are unique boutique finds.
The colorful-as-butterfly designs come from Colombia. But then each piece of beachwear is custom-embroidered at Farfalla-blu with beads to add some sparkle.
Designing clothing is been part of my life " says owner Inge McKeever. She is trained as a fashion designer, has managed garment wholesale businesses and likes to come up with new creations. "Glam is fun," this woman of many hats likes to say.
On a beautiful sunny morning on Gilbert, Arizona Farfalla-blu was created by Peggy Strauss, a master hairdresser ( Inge's Sister) Their initial mission was to find the perfect plus-size bra. But no manufacturer could be located.
"Instead we discovered a company that made beautiful bikini, monokini, tankini and one piece swimwear ," Inge recalls. Their fabric colors were bright and cheerful like the wings of a butterfly. Obviously, Farfalla-blu was just the right name for this unique collection.
"The swim suits are really different and unique," the business owner states. "We have them embroidered by local artists with high-quality Japanese beads."
Those original bead designs add a catchy ornament to the beachwear. Thus, each Farfalla-blu swimsuit becomes a beach jewel, sexy but not vulgar.
According to Farfalla-blu philosophy, there can be never too much choice of styles. The application of high-grade, durable glass beads from Japan, makes each swimsuit one-of-a-kind gem.
As most swimwear leaves little room for glam except the trim figure inside, Farfalla-blu has taken on jazzing up the cutest pattern. The bead ornaments reinforce the natural beauty of the colorful prints.
"I always like to accessorize, wear something different," Inge states. "And I am so glad to share Farfalla's creative resources with my friends and clients."
Just now Farfalla-blu's uniqueness has become affordable. During its mid-season sale, many beach fashions will be discounted up to 75 percent. This is an excellent opportunity to grab a one-of-a-kind, bead-embroidered bikini or one piece swimsuit.
Farfalla-blu fashions will easily stand out against leisurewear off the rack. Farfalla-blu's attention to detail on bikinis, tankinis, and one piece swimsuits has satisfied many client's craving for glamour. And a little glam makes the beach and life a lot more playful.
Business info:
Farfalla-blu is owned by Hola International LLC, a privately held company,
Based out of Gilbert, Arizona. The company is committed to providing women a joyful and inspiring shopping experience with beautiful, sexy, and elegant garments at competitive pricing now also at our online store http://www.farfalla-blu.com.
Farfalla-blu can be contacted at Inge1555(at)gmail(dot)com or 480-329-6183
Press contact
Inge McKeeveer
Agent
Farfalla-blu
Tel: 480-329-6183
Inge1555(at)gmail(dot)com