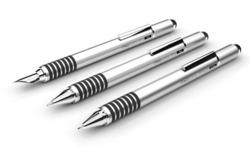 TAGTOOLS offer the first dual digital stylus mechanical pencil and fountain pen in a beautiful titanium design
Cooke City, MT (PRWEB) June 07, 2012
GRIFITI, a small product development company, announced the launch of a Kickstarter campaign for their new project, TAGTOOL Stylus, which is a set of unique combination input devices for digital and analog expression. TAGTOOL Stylus includes the first digital stylus + mechanical pencil, the first digital stylus + fountain pen, and a matching digital stylus + rollerball pen.
TAGTOOL Styluses come in titanium with chrome accents. The replaceable stylus nib is a standard conductive ABS nib in 6 mm, similar to most digital stylus. The nibs screw off so they can easily be replaced if they wear out. The mechanical pencil uses standard .5 mm lead and comes with an eraser. The fountain pen uses ink cartridges and fine point iridium fountain pen nib and the rollerball pen uses an ISO standard 0.7 mm rollerball point (Parker ink refills). All lead and ink refills are standard so users can buy them locally.
Grifiti has been working on the TAGTOOL Stylus project for about 3 months. "We have a bunch of vocal users of our Dootle Notebook Case for iPads and Writing Notebooks who have told us that they really like to use combination styluses to keep the amount of items they are carrying to a minimum, " said Grifiti's Phil Wessells. "We took an extensive look at the market and felt we could positively add to the product selection available by designing a mechanical pencil and a fountain pen, each with a digital stylus."
Tin Hoang, Grifiti's lead designer on the project, wanted to maintain a clean design similar to the other Grifiti products available on their website. "We really liked like the idea of making the TAGTOOL line exclusively with titanium, " said Tin. "Satin brushed titanium not only looks great, but also wears very well over time."
GRIFITI has set the Kickstarter campaign target at $30,000 in order to allow them to move ahead with final tooling and the initial production run. Each pledge level offers TAGTOOL Styluses as the reward, starting at $30 for one, and ending at $1540 for 96. "Hopefully, the kickstarter community with find something they like in TAGTOOLS and we'll reach our goal and move on to production with the TAGTOOL Stylus," added Tin.
http://www.kickstarter.com/projects/grifiti/tagtool-stylus-mechanical-pencil-and-pens is the link to the Grifiti's TAGTOOL Stylus project on Kickstarter.