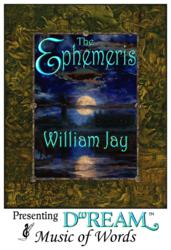 Flawlessly produced both in print and in recording, "The Ephemeris" is one-of-a-kind 'theatre of the mind' experience and very highly recommended.
Ann Arbor, MI (PRWEB) June 19, 2012
Not your usual June wedding announcement: Publisher/Producer Music of Words wants to tell the world that two old soul mates, Classical Literature and Classical Music were just married—and their prospects for sharing life together look anything but dull. Author William Jay united the couple in his innovative creation called, "DwREAM" an acronym that stands for Dramatic Writing and Reading Entrained and Articulated by Music. Quite a mouthful that one nevertheless experiences as if it had been around for over a thousand years—which it of course has, in different iterations, from the harp-accompanied ballads of the Ancient Greeks through the Latin verses of Medieval Goliards and songs of the French Troubadours. But never quite like this—with a full symphonic score metered and married "word for word" to a Dramatically Performed Novel in Verse. "The Ephemeris" (pronounced: i-fem' er-is) has literally "Blown away" test audiences who have described their DwREAM experiences as, "Transporting," "Captivating," and "Emotionally overwhelming." (Simply pronounced "dream." For Celtic speaking people, the w is a soft "oo" sound and the r is "trilled.")
Using a language and dramatic style that smacks of Shakespeare—and floating the novel's entire narrative on an original musical score that ranges from Medieval folk fiddles playing war marches to Renaissance style orchestrals—William Jay celebrates and explores the Renaissance and broader Western Culture through its Classical traditions. From the philosophy of Plato to the physics of Einstein, he ties it all together in a glorious arc of continuity, in a nautical adventure tale and love story that is rich in historical content and philosophy and brilliantly insightful to the human condition. The Performed narrative plays in the mind like a theatrical presentation—in a musical, emotionally driven tour de force that has been described as, "Flawlessly produced both in print and in recording, 'The Ephemeris' is one-of-a-kind 'theatre of the mind' experience and very highly recommended." (Midwest Book Review Pre-publication Review, May 2012)
The book design for the Print version of "The Ephemeris" hearkens back to the early traditions of illuminated designs, with elaborate, Celtic-like 4-color borders and a printed cover that feels like leather. There are 26 sepia and color illustrations placed throughout. All artwork is original. It is very decorative and will display nicely on coffee tables or library bookshelves. The audio component is comprised of 7 CDs and has an approximate run time of 8hrs. The two components, print ("The Ephemeris") and recorded ("Voyages in DwREAM") are sold together as a single work of art in the DwREAM format, at a bundled/package price. However, they are also offered separately for those who prefer to just read the book or listen to the audio.
A truly "Powerful" and "Captivating" experience, DwREAM offers almost Blue Sky for artists as well as entrepreneurs. The marriage of music and literature can be applied virtually anywhere from classics to comic books, and the ease and minimal cost of electronic distribution makes it possible for rapid growth of such a product in the digital age. Music of Words has a variety of products in its pipeline.
Promotion: Publication Date: Summer 2012 / July 2012. National Radio campaign, targeted print advertising aimed at, and in cooperation with, Bookstores in radio broadcast areas / Signings / Print ads targeting Libraries / Press releases / Magazine and e-zine advertising and articles / Free Play of audio on Commercial, College and Public broadcasting radio / Author participation on Television and Radio talk shows. Current 12 month budget projected for promotion is approx. $60k.
William Jay, American author received wide critical acclaim for his novel, "The Lost History of Redwyn" (a loose prequel to: "The Ephemeris / The Ephemeris, Voyages in DwREAM"). See Publisher's Weekly, Library Journal and other reviews.
Music of Words Productions was started in Ann Arbor, MI in 2007. In the works are other DwREAM products and product lines. "The Ephemeris" will be available in e-formats at a future date to be announced.
For a special, Pre-Order promotional offer of this book/audio bundle, please visit the Music of Words website.
"The Ephemeris" by William Jay
Historical / Literary Fiction / Multimedia
Season: Summer 2012 / Pub. July 2012
Book: HC; 288 pgs, 26 Orig Illust; 4-color; trim size: 11 ¼ x 8 ¾ $54.95; ISBN: 978-0-9840528-6-8
Audio: 7 CDs; 8 hrs; $34.95; ISBN: 978-0-9840528-7-5
Bundle: Book & Audio; $69.95; ISBN: 978-0-9840528-8-2
Contact Info:
Contact: Debbie Skora
DebS(at)musicofwords(dot)com
Music of Words
100 W. Big Beaver, Suite 200
Troy, MI 48084
musicofwords.com
Like us on Facebook