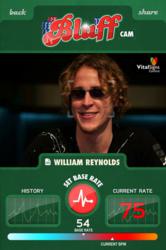 INM did an outstanding job in helping us to bring an application to market that is both highly engaging and easy-to-use.
(PRWEB) June 07, 2012
Integration New Media, Inc. (INM), a leader in building engaging digital experiences, today announced the launch of BluffCam - an iPhone application that helps poker players perfect their bluffing skills. Developed for WowWee, the creators of many popular and innovative hi-tech consumer products, BluffCam is being debuted in time for this year's World Series of Poker, happening now in Las Vegas.
"INM did an outstanding job in helping us to bring an application to market that is both highly engaging and easy-to-use," said Sydney Wiseman, creative director for BluffCam. "We're confident that BluffCam will be a big hit with poker enthusiasts around the world."
BluffCam leverages cutting edge camera technology developed by Phillips called VitalSigns™ to monitor micro-changes in a heart rate and skin color. This allows players to self-monitor their vitals and to learn how to keep their cool throughout game play.
BluffCam: "Table Edition" (available as a future release), enables players to track the heart rates of multiple opponents, analyze their behaviors, take notes, and even share their results and screenshots of players via Twitter.
The agile software development methodology was used to ensure flexibility and cooperation among the development teams at INM and WowWee, and to ensure that BluffCam would be designed on spec, on budget and on time. The application was successfully completed in time for its debut in time for the World Series of Poker event, which runs from May 27, 2012 to July 16, 2012.
"INM worked closely with the development team at WowWee to bring an innovative application to market that tightly integrates the VitalSigns Camera technology from Philips, real-time Google Analytics and Twitter feeds," said Laurent Brigaut, chief technology officer at INM. "And because BluffCam was designed as a native iPhone application, it is extremely responsive and loads quickly."
INM also used the latest Apple Developer Tools to build BluffCam so that the application would be easier for WowWee to maintain, upgrade and build future spin-offs of the product.
Pricing and Availability
BluffCam is the first in the series of BluffCam apps. The $0.99 app is available exclusively on Apple's App Store for iPhone 4 and 4S, and the 4th generation iPod Touch.
For more info on the app, visit: http://itunes.apple.com/us/app/bluffcam/id528272523?ls=1&mt=8
How it Works: The VitalSignsTM Technology
BluffCam uses VitalSignsTM technology. Your heartbeat causes small changes in the color of your face. These changes are not visible to the eye, but with advanced software iPhone and iPad cameras can detect these 'micro-blushes' to measure your heart rate. Although the concept is simple, calculating parameters, such as heart rate, from real time video images is a major technical challenge. VitalSignsTM has overcome these challenges using advanced algorithms and expertise in optics, video and signal processing.
About Integration New Media, Inc. (INM)
Integration New Media (INM) builds engaging digital solutions that deliver results. For more than 20 years, INM has helped companies create enterprise websites and rich web applications, mobile websites and mobile apps, digital publications and digital archives. The company has a strong emphasis on delivering solutions that balance business objectives, software development best practices and exceed user experience requirements. For more information, visit: http://www.INM.com/
About BluffCam
BluffCam (http://www.bluff-cam.com) is a first of its kind poker app that measures the heart rate of poker players, helping them achieve that perfect poker face. The app uses cutting edge VitalSignsTM Camera technology to detect tiny changes in the color of players' skin, helping gage whether or not they are under pressure mid-game.
The BluffCam team has extensive experience in developing mobile app hits. In April 2012 the team released Echoer, a groundbreaking app that makes it easy to see what other people are thinking and experiencing in the places around you. The design and concept behind Echoer has already led to accolades, with Echoer winning the influential LeWeb 2011 Google People's Choice Award in December 2011. Echoer is available for download via http://echoer.com.
About WowWee
WowWee is a leading designer, developer, marketer and distributor of innovative hi-tech consumer robotic, smartphone application and entertainment products. The WowWee group of companies maintains operations in Hong Kong; Carlsbad, California; Brussels, Belgium; and Montreal, Quebec.