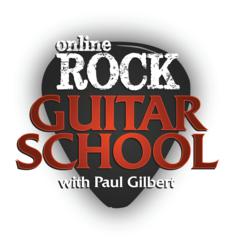 "The launch of the Paul Gilbert Rock Guitar School is a giant step forward towards ArtistWork's mission to build a global, connected community dedicated to releasing the inner musician that is in all of us." - David Butler
Napa, California (PRWEB) June 07, 2012
ArtistWorks, the first collaborative online global learning community comprised of world-renowned teaching artists and ambitious amateurs, revealed that its new Paul Gilbert Rock Guitar School has recruited players from 28 countries, with 45 percent of subscribers located outside the U.S.
Officially launched May 23rd, 2012, the Paul Gilbert Rock Guitar School combines an exhaustive video lesson list with the ability to show Paul Gilbert how you're doing and receive personalized video feedback from the master shredder himself.
In less than two weeks, the new school has amassed the sixth largest subscriber base in the ArtistWorks online campus of 14 different online music programs.
"The Paul Gilbert Rock Guitar School's record breaking launch is a testament to Paul's impressive stature around the world as a musician and teacher, and the power of ArtistWorks' Video Exchange Learning Platform," said David Butler, Founder and CEO of ArtistWorks, Inc. "The launch of the Paul Gilbert Rock Guitar School is a giant step forward towards ArtistWork's mission to build a global, connected community dedicated to releasing the inner musician that is in all of us."
The Rock Guitar School with Paul Gilbert utilizes ArtistWorks' patent-pending Video Exchange Learning™ Platform to create a personalized learning experience. Subscribing students view lessons and submit video questions/performances directly to world renowned teaching artists via webcam or smartphone. The teacher then provides individual feedback with a personalized video response. This feedback is available for all subscribing students to view, creating a "virtual classroom" with an ever-evolving library of lessons.
Gilbert is part of the ArtistWorks Guitar Campus, which gives students access to the same level of instruction from solo fingerstyle master Martin Taylor, bluegrass flatpick phenom Bryan Sutton, dobro whiz Andy Sutton, classical master Jason Vieaux, or jazz and gypsy virtuoso Andreas Oberg.
Subscription fees are reasonably priced at $90.00 for 3 months, $150.00 for 6 months and $240.00 for a 12-month subscription.
Go to http://www.artistworks.com/paul-gilbert for more information about online guitar lessons.
About ArtistWorks, Inc.
Founded in 2008 by former AOL executive David Butler, ArtistWorks, Inc. is a Napa California-based technology and music education company that has created a proprietary, patent pending, online Video Exchange™ interactive education platform which allows virtuoso musicians to "teach the world" by presenting their full method, technique or curriculum in HD video to subscribing students. Utilizing simple web cams, iPhones, iPads and more, students are able to submit videos through the site to the ArtistWorks' instructors for individualized feedback and guidance – creating a two-way, educational experience. ArtistWorks currently offers schools from such world-class, virtuoso artists as: Andreas Oberg (jazz guitar lessons), Martin Taylor (fingerstyle guitar lessons), Howard Levy (harmonica lessons), DJ Qbert (DJ lessons), Christie Peery (piano lessons), Thomas Lang (rock drum lessons), Billy Cobham (jazz drum lessons), Luis Conte (percussion lessons), as well as the ArtistWorks Academy of Bluegrass with Tony Trischka (banjo lessons), Missy Raines (double bass lessons), guitar player Bryan Sutton (flatpick guitar lessons), Andy Hall (dobro lessons), Mike Marshall (mandolin lessons), and Darol Anger (fiddle lessons).