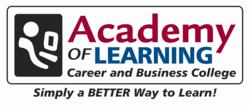 High River, Alberta (PRWEB) June 07, 2012
Academy of Learning is pleased to announce that Kendra Leman received the gold medal for the Prairie Region from the Canadian Payroll Association. "When I was told I was receiving a bronze or silver or gold medal it felt awesome. This is a huge accomplishment for me," says Kendra.
The Canadian Payroll Association annually honours individuals from each Region—Atlantic, Greater Toronto, Ontario, Pacific, Prairie and Quebec—who exemplify professional excellence by awarding a bronze, silver and gold award to the candidates who achieved the top marks in the core payroll courses of their certification programs.
As a graduate of both the Computerized Payroll Accounting and Business Administration Diplomas, at the Academy of Learning, Kendra says she didn't always enjoy school. "Throughout high school I didn't do that well; however, I didn't really want to be there. Once deciding on going to college, I wanted to be there and I wanted to do the best I possibly could, so it was definitely rewarding to receive a Gold medal."
Kendra is the first Academy of Learning graduate to receive a Gold medal from the Canadian Payroll Association.
"This is a wonderful achievement! Kendra is a shining example of how dedication and hard work can help you achieve your goals," states Derek Hamill, President & CEO of Academy of Learning. "On behalf of the Directors and staff at all Academy of Learning locations across Canada, congratulations!"
About Academy of Learning
With over 60 locations across Canada and offering more than 35 registered diploma programs and 17 registered certificates, Academy of Learning continues to be an industry leader by developing high-quality programs and courses designed to ensure students receive the career training needed to excel in the workplace. Graduates are working in their chosen careers in fields, such as Healthcare, Accounting, Business, Office Administration, Call Centre, Customer Service, Hospitality and Information Technology. Founded in 1987 in Thornhill, Ontario, Academy of Learning will be celebrating its 25th anniversary this year.