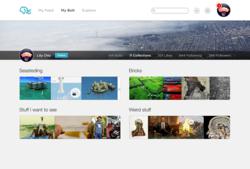 BOLT unites private and public visual collecting, eliminating the need for multiple personal and professional saving and sharing platforms
San Francisco, CA (PRWEB) June 12, 2012
BOLT, the first service to unite the abilities to collect, share and save any webpage, image or file without the risk of lost links – is exiting beta as it opens its platform to the general public. BOLT enables users to permanently save meaningful content from the Web and organize the resulting dynamic "super screen captures" into browsable private or shared collections. Bolts are not images or links; but are complete, working copies of the original page. Nearly one million bolted pages have already been saved and shared via BOLT by its 30,000 beta users since December 2011.
BOLT includes:

A visual browsing experience to capture and share content from any website
The ability to create and organize private and public collections
Instant sharing to Facebook, Twitter, Pinterest, Tumblr and scheduling via Buffer
Personalized URLs and self-branding "stickers" that link back to the user's website, blog or bolt collection
Why BOLT?

BOLT unites private and public visual collecting, eliminating the need for separate personal and professional saving and sharing solutions.
BOLT is a single hub from which to retain, track and share content across multiple social channels.
Bolts are permanent web page copies, so users will never lose their saved content.
How BOLT Works:

Members collect pages by bolting them into their personal storage collections.
BOLT caches the content in its original form, creating a "super screen capture" that is an exact, working copy of the original.
Bolts are stored on BOLT's proprietary page cloud, and will not change or disappear if the original site goes away.
Users personalize page copies by giving them an identifiable URL, their personal sticker and memory-jogging or conversation-starting comments.
Users can easily revisit the links to their bolted page copies, and can see what their followers find most interesting with likes, rebolts and page views.
Who is Using BOLT?

Consumers and "prosumers." Whether the user is a writer preparing an article, an architect specifying a kitchen or a parent planning a family vacation, each needs a simple method beyond bookmarking that allows them to permanently keep, find and share ideas, images and resources.
Business professionals: for sources and story research, to permanently archive records of online content; to promote and share links to articles; to gather research for sales calls and conferences.
Bloggers: as an additional branding channel; to drive and measure traffic from other social sites like Twitter, Facebook, Pinterest and Tumblr; to see what's popular or trending in their niche; to organize resources; to quickly create visual blog posts.
Quotes:
Executives
Attributable to Matthew Roche – co-founder and co-CEO, BOLT
"The sheer wealth of information online is truly daunting – millions of pages, countless words, images and ideas. But imagine you could pick out, organize, save and share the things that interest you most, or things that could help you most in your work. That's BOLT. Our team has spent the past six months making it easier and more fun than ever to tame the web – to find, share and even create – content that lasts forever."
Attributable to James Roche – co-founder and co-CEO, BOLT
"BOLT is the next step in the evolution of the Web. We make it simple to corral the web and to save and share great content for fun and for serious business. BOLT includes consumer-centric features that reflect the changing model of the online experience, as it moves in a more visual and social direction."
Customers
Attributable to Michelle Kay, Blogger and Digital Strategist at DomesticExecutiveOnline
"Not only is BOLT a unique and functional platform, the users are engaging and share amazing pages that I might have never found elsewhere. As a serial sharer, I love that I can keep a collection of awesomeness in my account and curate to my other favorite sites all in one click!"
Attributable to Jessica Ferrara, Blogger at ChaosandLoveShop
"BOLT is how I keep my internet brain organized. I use BOLT in place of Pinterest and Evernote because it combines my favorite things about both."
About BOLT
BOLT is a platform that enables users to save and share webpages forever. BOLT gives consumers and professionals a way to collect interesting and useful online content by creating permanent page copies that can be shared and organized into visual collections. Bolted pages can be kept private or easily shared on BOLT and other social networks, helping to connect people and create conversations around shared interests. Nearly all of BOLT's features are free of charge, with more advanced pro features available for a nominal fee. Based in San Francisco and founded in 2010, BOLT is backed by Benchmark Capital. For more information and to start bolting pages today, visit http://bo.lt/.
Connect with BOLT:
bo.lt
http://www.facebook.com/getbolt
vimeo.com/getbolt
@getbolt