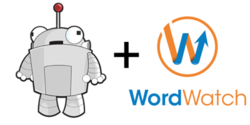 This partnership will help both customer bases improve their organic and paid search results.
San Jose, California (PRWEB) June 07, 2012
The partnership between SEOmoz and WordWatch announced on May 29, 2012 has been expanded to include a discount on the SEOmoz PRO membership for existing WordWatch customers.
"This is a great deal for our customers who'd like to get help in improving their organic search results as well as paid search," Chris Bauman, VP of business development for WordWatch, said. "Both SEOmoz and WordWatch help to solve one piece of the Internet marketing puzzle, and with this partnership both customer bases will benefit."
SEOmoz is a leading search engine optimization tool provider, and hosts one of the most active communities of SEO professionals on the Internet of over 400,000 members. The partnership has also allowed them to offer their PRO members a discount on WordWatch to help give their members paid search bid management.
About WordWatch:
Founded in 2009, WordWatch is an online AdWords bid management application designed for small business advertisers, marketing consultants and freelancers, and small agencies. The application simplifies the daily management of keyword bids and constantly optimizes a customer's AdWords account. WordWatch has offices in San Jose, Amsterdam and Krakow.
Related Links
http://www.wordwatch.com
http://www.seomoz.org