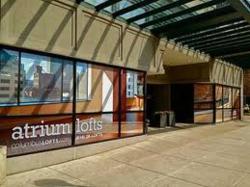 We have 25 units in different sizes and configurations available throughout the project.
Columbus, OH (PRWEB) June 07, 2012
Gryphon Asset Management announces a $15,000 price reduction on select units in the Atrium Lofts Building, an upscale urban condominium project located at 106 N. High St, Columbus, Ohio. Gryphon is acting as receiver for the 25 remaining unsold units as well as taking on limited marketing efforts to assist in the promotion of the project. Nate Caplin of CapOhio is the full time sales agent.
Gryphon was originally appointed as receiver on June 17, 2011 and managed the project until the owner, 106 North High Street, LLC, filed for bankruptcy protection. Creditors to the company moved for Relief from Stay which was granted on January 18, 2012 ultimately placing Gryphon back into its' prior role. 28 units have been marketed by CapOhio since that date with 3 currently under contract or sold.
"We have 25 units in different sizes and configurations available throughout the project. Approximately half are occupied with recently signed tenants at high rents. This mix offers opportunities for owner occupants and investors alike to take advantage of the new price reductions," said Richard Kruse, partner with Gryphon Asset Management. "All units boast hardwood floors, granite counters and stainless steel appliances, not to mention easy access to the business district, arena area and Short North."
For more information about leasing or sale, contact Nate Caplin at 614-307-7435. Inquiry into the receivership aspect of the project should be directed to Richard Kruse of Gryphon Asset Management at 614-885-0020 x 17.
About Gryphon USA, Ltd.
Gryphon USA, Ltd. is a multi-faceted asset management and liquidation firm focusing on the operations and dissolution of single assets through and including entire companies. Gryphon maintains a receivership and asset management group (Gryphon Asset Management) real estate brokerage practice and commercial auction/appraisal group (United Country Gryphon Realty & Auction Group), art, antique and pottery auction group (Belhorn Auctions) and real property management group (partnered with Borror Properties).
Melissa M. Kruse oversees the day to day operations of the parent company, Gryphon USA, Ltd. while Gryphon Asset Management operations are managed by Richard F. Kruse. Auction operations are directed by Peter Gehres. The property management partnership is maintained by Lori Steiner. Contact the company at 614-885-0020 or info(at)ryphonusa(dot)com.