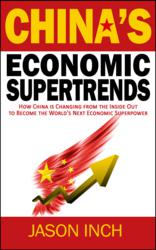 This is a modern guidebook to China's economy and the major trends affecting investments, businesses and careers. China's economic rise is one of the greatest opportunities globally this decade, says author Jason Inch.
Shanghai, China (PRWEB) June 08, 2012
In Jason Inch's new book, China's Economic Supertrends: How China is Changing from the Inside Out to Become the World's Next Economic Superpower (InChina Publishing; April 2012; Paperback $18.95; ISBN 978-0-9879847-1-5 and ebook $9.99; ISBN 978-0-9879847-0-8) author, professor and business consultant Jason Inch examines the forces that are shaping China's economy and explains where the greatest opportunities are for businesses, investors and professionals. The book and ebook are being launched officially on June 9 2012 at the Four Seasons Shanghai.
"This book will refocus the debate about China's economic development specifically on China's investment and business attractiveness rather than the problems associated with China's rise. Readers can now identify the key future industries and business opportunities using the China supertrends as solutions to the problems Western academics, journalists and politicians have long commented on," says Inch.
Based on Supertrends of Future China (which was co-authored with Dr. James K. Yuann), this is the first book of the planned three-volume China Supertrends series of economic, demographic and political trends that are changing China and the world. The first volume, China's Economic Supertrends, provides a road map for readers through China's economic landscape and highlights the challenges and opportunities presented by the emergence of the four economic supertrends.
"China's four economic supertrends--namely, new manufacturing, urbanization, sustainability and affluence--are where investors, businesses and professionals should concentrate their China-related efforts," says Inch.
Using extensive research, Inch explains each supertrend in detail and describes the impact that they will have on both the local and global economy. After analyzing China's growth engines, turbochargers and the 12th Five Year Plan in the first section of the book, Inch then explores chapter by chapter how each China supertrend can be understood and profited from.
In chapter five, he shows how manufacturers are changing their strategies to meet the needs of China's modern economy. In the chapter on urbanization he discusses the creation of new cities and the development of infrastructure in order to accommodate China's large population as well as to narrow the wealth gap that exists between urban and rural residents. In the sustainability chapter, Inch illustrates the challenges that China faces and the opportunities to be found in the need to maintain its growth while saving energy and reducing pollution. Finally, in the chapter on affluence, the reader sees how the growing wealth of the country, its companies and people is being wielded and how it is impacting the economy on both a national and international scale.
Overall China's Economic Supertrends shows:

How the growth engines of China's economy--consumption, foreign investment and exports--interact with turbochargers such as reverse globalization, Chinese determination and leapfrogging to create China's economic supertrends
How and why China is shifting towards consumption as a major growth engine and what China's new consumers are looking for
What investors, businesses and professionals need to know about the supertrends--new manufacturing, urbanization, sustainability and affluence--in order to take advantage of the forthcoming economic opportunities
Inch adds, "[China's Economic Supertrends] is about China's top economic trends and how people from all levels of businesses and every nationality can profit from them. China's supertrends will affect businesses big and small."
About the Author
Jason Inch holds an MBA from Canada's Richard Ivey School of Business and also attended one of China's top business schools, China Europe International Business School (CEIBS). He also holds a B.A. in Asian Studies from the University of Victoria, one of the top programs for China studies in Canada. He speaks, reads and writes fluent Mandarin and Japanese as a result of his educational and work background. Since arriving in China in 2003, Jason has worked for some of the world's largest multinational companies as a consultant. He currently teaches a course on China's economy at Shanghai Jiaotong University and previously was an adjunct professor for Benedictine College's Shanghai campus, where he taught organizational behavior and international management.
Before coming to China, Jason worked in the United States and Japan. This is his second book and the first in InChina Publishing's China Supertrends series which will later feature China's Demographic Supertrends and China's Political Supertrends, to be published in 2012 and 2013.
Find updates on the Supertrends series at the China Supertrends blog.
If you are interested in contacting Jason Inch for an interview, review copy of the book or additional information, please contact Andrea Liu at InChina Publishing at media(at)inchinapublishing(dot)com