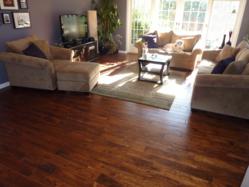 Atlanta, GA (PRWEB) June 08, 2012
simpleFLOORS specializes in high-quality, contemporary flooring at factory-direct pricing. All the new Metro Atlanta stores offer a range of solid hardwood, engineered hardwood, bamboo, cork and laminate flooring choices. Most of the hard wood flooring options are finished with a crystal clear mixture of aluminum oxide and polyurethane to give each floor stunning clarity and extreme durability at prices 15-35% lower than the competition.
Each of the Metro Atlanta stores is independently-owned and operated by a local Atlanta resident. Each store owner has years of experience in the flooring business, allowing them to uniquely understand the needs of their customers.
All the Metro Atlanta simpleFLOORS stores are designed to allow the consumer the ability to see exactly what they are getting. This is achieved with large scale displays for most of the flooring options. Each store offers personalized service with free design and color advice rarely available at the low prices simpleFLOORS offers. All of the Metro Atlanta locations offer installation services provided by expert installers.
In honor of the new Metro Atlanta Grand Opening, prices have been slashed up to 26% off engineered floors, up to 37% off solid hardwood floors, up to 23% off laminate floors and up to 26% off bamboo floors. Each location will also be offering up to a 50" Flat Screen TV with most flooring purchases over $2,000 (restrictions apply, call your local store for details).
The Grand opening Sale runs throughout the entire month of June. People are encouraged to get to the store early to secure the product and get themselves on the busy installation schedule.
simpleFLOORS Inc. is an Atlanta-based online retailer with 15 showrooms in California, Oregon, Washington, Georgia and Florida, offering premium-grade design-conscious wood flooring at guaranteed low prices. Guided by fresh insights from the interior design community, including new color trends, depth-enhancing hand-sculpting techniques and distinctive grain treatments, simpleFLOORS contract-manufactures, imports, sells and ships direct to residences, business addresses and construction sites anywhere in the U.S. and Canada.
From engineered exotic species to bamboo and cork products, simpleFLOORS respects the environment and carries a wide range of sustainable, regenerative, durable and long-lasting wood flooring options.
Contact a local store near you or visit the simpleFLOORS website at http://www.simplefloors.com
Atlanta/Decatur – 1248 Clairmont Rd #3D, Decatur, GA 30030, 404-682-2187
Mall of Georgia – 3200 Woodward Crossing Blvd #A107, Buford, GA 30519 678-546-0044
Alpharetta – 5475 Windward Pkwy #C, Alpharetta, GA 30004 678-229-2398
Downtown Marietta – 111 Church St NE, Marietta, GA 30060 678-229-2383