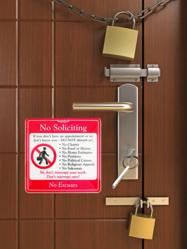 "Solicitors are often an unwanted addition to a daily work routine, and these signs can prevent those interruptions," said Rivka Fogel, Manager at MyDoorSign.com.
Brooklyn, New York (PRWEB) June 08, 2012
MyDoorSign.com, the web's largest source of door signs, announces the release of new No Soliciting signs to be added to the line of Showcase™ signs. The signs incorporate an elegant and sophisticated design with a detailed list of unwelcome visitors. Soliciting can interrupt a work day and hinder productivity and these signs are an effective way to politely preserve efficiency.
Door signs often give the first impression, and Showcase™ signs are the way to impress. As the first thing visitors see when entering a building, these new signs are stylish but highly functional. Door signs are an effective way to organize and direct people within a building while still maintaining the atmosphere and design of the office. "Solicitors are often an unwanted addition to a daily work routine, and these signs can prevent those interruptions," said Rivka Fogel, Manager at MyDoorSign.com.
The new No Soliciting signs tell visitors "If you don't have an appointment or we don't know you—DO NOT Disturb us!" The signs then go on to list undesirable solicitors such as petitions or salesman. By preventing these types of interruptions, businesses can preserve their professional atmosphere effectively. The intent of the sign is to prevent work interruptions. Completed with a No Salesman icon, the message is clear but upholds a courteous demeanor.
The chic design of the Showcase™ signs gives this sign a unique appearance to any office. Showcase™ signs have rounded corners, a sophisticated border, and a thick gloss surface. Two eye-catching designer colors are available, helping them remain visible but maintaining the décor. All orders include foam adhesive strips or the option to mount them with a sign frame, also available at MyDoorSign, for a more professional look.
All of MyDoorSign's products are long-lasting and durable. The signs are equipped to handle different workplace and outdoor conditions ensuring a cost efficient way to communicate messages. MyDoorSign also offers many lines of customized signs for offices looking to brand their logo or display specific messages.
For more information, visit http://www.mydoorsign.com/Door-Signs/No-Soliciting-Door-Sign.aspx
About MyDoorSign.com
MyDoorSign is the web's largest source for door signs. The web store offers more than 10000 different in stock door signs and over 300 easy to complete custom door signs templates.
About SmartSign
SmartSign is one of America's fastest growing e-commerce companies and parent of MyDoorSign.com, MyParkingSign.com, as well as more than 50 other sites. The company manufactures and distributes a wide range of signs, tags, mats, and labels. In the past, many consumers have found it hard to find, hard to design and hard to order signs with the right message. By positioning "signs as solutions," SmartSign has taken an entirely different approach. Through highly targeted, content-rich, and authoritative retail sites, the company provides specific solutions to specific problems, such as providing the right door sign. SmartSign is widely recognized for its quality construction; its signs come with a 3M® warranty and outlast fast-fading, ink-jet signs. Other SmartSign advantages include fast and free shipping, the Web's largest range of designs, and a best-price guarantee.