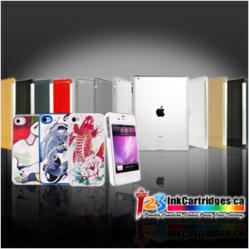 (PRWEB) June 07, 2012
123inkcartridges.ca is a Canadian based company which supplies customers with printer and computer related products to online customers. The growing company has recently been expanding product lines and just announced the addition of Apple iPad accessories.
Printer and computer products can be ordered from the online store 123inkcartridges.ca which is the leading online provider of quality products such as ink and toner. More recently the company has begun to add a wide variety of computer related products as well. Apple is the latest line to be expanded through this online store.
There are two office locations, one in Montreal and anther in Vancouver. Product storage is in other facilities which house products to fulfill customer orders quickly and expediently. The online store has a full time customer service staff which is dedicated to making each experience a pleasant one for customers. They are knowledgeable and eager to help customers find the high quality products that they need at prices that are affordable. Expansions recently include Apple iPad accessories.
The online store has a vast product line which is built to meet customer needs. 123inkcartridges.ca has a friendly support staff who can assist customers online 24/7. The company stands by their motto to provide quality products for prices that are affordable.
About 123inkcartridges.ca
One of the premier online suppliers of computer and printer products is 123inkcartridges.ca. When the company was conceived they provided customers with ink and toner for printers. They are dedicated to providing high quality products to customers at prices that they can afford. They have separate facilities which house their many products so that orders can be filled quickly. They also have two office facilities one of which is in Montreal and the other in Vancouver. The company began to grow and expand product lines to carry various computer related accessories and necessities. These products are then shipped to order locations throughout the US and Canada. The company stands behind its original commitment to provide high quality products at the lowest possible prices.