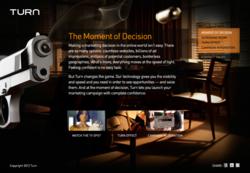 "The most important aspect of is that it is not just a single event but that it's the kickoff of a cross-channel advertising campaign, wrapped in a very public demo of our platform's amazing capabilities."
-- Paul Alfieri, VP Global Marketing
San Diego, CA (PRWEB) June 09, 2012
Ninthlink, Inc., an Interactive agency located in San Diego, CA has launched a new microsite for Turn.com. The microsite was built to support a major marketing initiative at Turn that includes a National television spot airing during the season finale of AMC's Mad Men, Sunday June 11th at 10pm (EST, PST), 9pm (CST).
The microsite will introduce interested visitors to Turn, who in creative fashion, are also showing their audience how to advertise effectively cross-channels using traditional and Interactive media. Prospects on the newly designed microsite are being used in a live case-study and can enter their email information to receive the results of this campaign at no cost.
According to the Vice President of Global Marketing at Turn.com, Paul Alfieri, "The most important aspect of is that it is not just a single event (the commercial), but that it's the kickoff of a cross-channel advertising campaign, wrapped in a very public demo of our platform's amazing capabilities."
The microsite, which launched on June 7th, 2012, offers both video and written content that describe the full capabilities of the Turn platform.
The microsite is located at: http://www.turn.com/decisions
About Turn
Turn has developed the digital advertising industry's only integrated, end-to-end platforms for data and media management. The Turn Audience Platform and Turn Media Platform are currently utilized to manage digital advertising campaigns for over fifty Fortune 200 brands. Turn's global infrastructure, intuitive software and analytics, and open ecosystem for partners – all available in a real-time integrated environment – represent the future of digital advertising. Turn is headquartered in Silicon Valley, California, with additional offices in Amsterdam, Charlotte, Chicago, London, Los Angeles, New York, and San Francisco.
About Ninthlink
Established in 2000. Ninthlink builds high performance websites and strategies designed to get client results. Ninthlink is a full service Interactive Agency located in San Diego, CA.