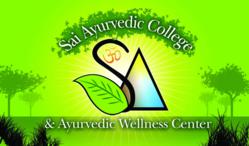 We are very pleased and excited to offer this complete program to everyone that has an interest in learning authentic Ayurveda. We are looking forward in developing a relationship with all.
Miami, FL (PRWEB) June 08, 2012
Sai Ayurvedic College has offered two options for enrollees in its one-year certificate and two-year degree programs: residential classroom attendance at its Miami, Florida facility or participation via web conferencing broadcast of live classes. Classes take place once monthly, on a Saturday and Sunday from 9:00am to 6:00pm.
In its new online program, class recordings will be provided in a specially tailored format to individuals who wish to undertake Ayurvedic study on their own schedule, without the need to set aside an entire weekend monthly for web-facilitated attendance at lectures. The college's online courses are designed to fit the needs of working professionals and others with family and work obligations and who require a maximum degree of flexibility in their study schedule. The program is also designed to fit the needs of international and other students residing at great distances from the school and in varying time zones, for whom classroom attendance would be unwieldy. With a rapidly growing global interest in Ayurveda, the provision of such training abroad is becoming of increasing significance.
All courses are taught by experienced scholars and practitioners. As participants frequently note in post-course comments and observations, Sai stresses academic quality, caring and a close and highly interactive teacher-student relationship as well as economic affordability in all of its educational options.
Sai Ayurvedic College is a private, post-secondary degree-granting institution recognized by the Florida Department of Education and Florida Commission on Independent Education under the authority of Florida State Statutes, Section 1005.06 and is an approved Continuing Education Provider. Sai Ayurvedic College has been approved as a Professional School of Ayurveda by the National Ayurvedic Medical Association (NAMA). Additionally, Sai Ayurvedic College's residential classroom programs (as distinct from the webcast and online offerings) have been fully approved for the payment of Veterans Educational Benefits under the GI Bill by the Florida State Department of Veterans Affairs and the Veterans Administration.
Detailed descriptions and enrollment information is available on the College's website at http://www.saiayurvediccollege.com
Questions? Please contact Mrs. Cookie Tello, C.A.P., Director at (305) 380-0652 or info(at)saiayurvediccollege(dot)com