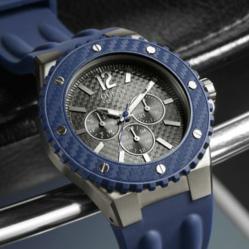 Speed into this season with an all-new collection from GUESS Watches.
Norwalk, CT (PRWEB) June 09, 2012
In a race to win - whether in the boardroom, on the racetrack or running down a soccer field – this distinct style and the man who wears it, never falls to the competition.
The watch is crafted in a Euro Sport design with a modernistic feel. With three variations – white, navy and orange – there's an option for every occasion. A smooth silicone strap provides a comfortably unobtrusive feel on the wrist. The strap is textured with clean racing-inspired lines, adding additional thickness to the supple strap. Corresponding to the strap color of each variation is a gear-inspired polycarbonate top ring with eight silver-tone rivets; adding just the right amount of industrial strength style to the watch.
For the man who desires to be a leader in life and fashion, charge into spring with this exclusive GUESS Watch.
About GUESS Watches:
GUESS Watches is a timekeeping accessory company with a focus on lifestyle driven fashion. GUESS Watches launched its first collection in 1983 with a line of men's and women's fashion watches. Constant attention to new ideas and cutting-edge design keep the brand relevant to today's trends.